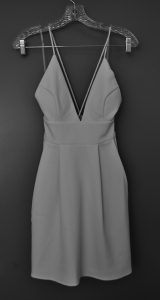 Towards the end of every spring term, seniors enrolled in Drexel's fashion design program design their own collections. This year, the fashion show will take place in Philadelphia's Navy Yard. You will be able to watch the fabulous collections at the show, and don't forget to sport some personal style that evening yourself. This is an event that you could most certainly have fun with.
For a sexy look, opt for a black halter jumpsuit. It's an unpredictable choice in comparison to a tight dress. You can keep your accessories simple with a black clutch and black point heels. Some understated elements will only make the ensemble even sexier. Large gold earrings could be the only piece of jewelry you rock. For this look, less is more!
For a sporty look, keep it comfy with sneakers as long you have one dressy element in your outfit. A black or gray midi bodycon dress works perfectly with a pair of Adidas. Throw a bomber on that has a bold color such as red or cobalt. The jacket will solidify your sporty vibe. Play up your makeup and hair to make sure you're still put together.
For a sophisticated look, a pair of ankle grazing navy pinstripe trousers could seem slightly boring. A pair of black-heeled loafers and a plain white tee could play up the look. An orange clutch would amp up the outfit a lot more. Sophisticated does not mean boring.
For a funky look you definitely want to stand out from the crowd. The sharp contrast of a black and white striped jumpsuit would do just the trick. A pair of white chunk heels or mules would give the outfit a bit of edge. To give your outfit a little color, add some turquoise earrings and clutch. You're bound to turn heads.
These are just a couple of suggestions to get some ideas flowing in your head. Sexy, sporty, sophisticated and funky are just a few looks that you can work with. Fashion is all about individuality. We're sure that you'll work it.