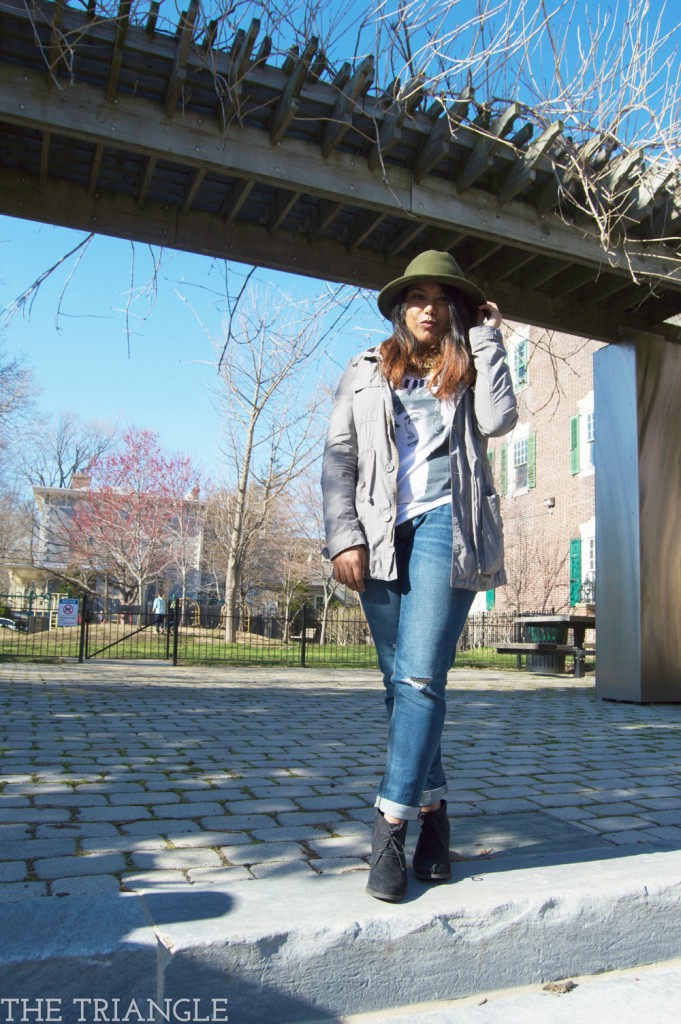 Neda Khan, junior, biology major
The Triangle: What are you wearing today?
Neda Khan: Forever 21 Audrey Hepburn shirt, Old Navy distressed jeans, grey anorak from PacSun, H&M booties, gifted gold necklace, PacSun hat and Forever 21 sunglasses.
TT: How would you describe your personal style?
NK: Comfortable and minimalistic. I love wearing simple clothes and occasionally adding [to] it with statement pieces.
TT: From whom do you get your style inspiration?
NK: Vanessa Hudgens and Zoe Kravitz.
TT: What are your favorite stores to shop at?
NK: Forever 21, H&M, PacSun and Uniqlo.
TT: What are three items in your closet that you cherish the most?
NK: My olive anorak jacket from Uniqlo. It goes well with everything! My distressed boyfriend jeans and my brown and black suede pointed flats.
TT: What trend are you most excited about this spring, and why?
NK: The bohemian trend because it's laid back and it gives off good vibes. I want every day of my spring and summer terms to be like a day at Coachella.
TT: What is your favorite accessory?
NK: A gold nose ring.
Mollie Snyder, Drexel University senior and co-founder of WearWeWent.com
The Triangle: What is your thought process when picking your outfits?
Mollie Snyder: Every morning I look at my weather app to see what it's like outside. From there it's all about my mood for the day, and I like to mix things up with my sunglass collection.
TT: Tell us about your outfit today.
MS: It's by Skull Cashmere, and I love it because it is a great transitional piece with a super luxury fabric.
TT: Where do you like to shop in Philadelphia?
MS: Knit Wit, located on Chestnut Street in Center City, is one of my favorite go-to spots in the city. It has a great sweater selection, and the store also carries really cute bathing suits. The website that I've co-founded, WearWeWent.com, is having an event at Knit Wit on May 9 from 12-6 p.m., and I'm really looking forward to it!
TT: Who is your biggest style inspiration?
MS: The Olsen twins.
TT: What trends are you most looking forward to this spring?
MS: I love the denim pencil skirts that are coming back.