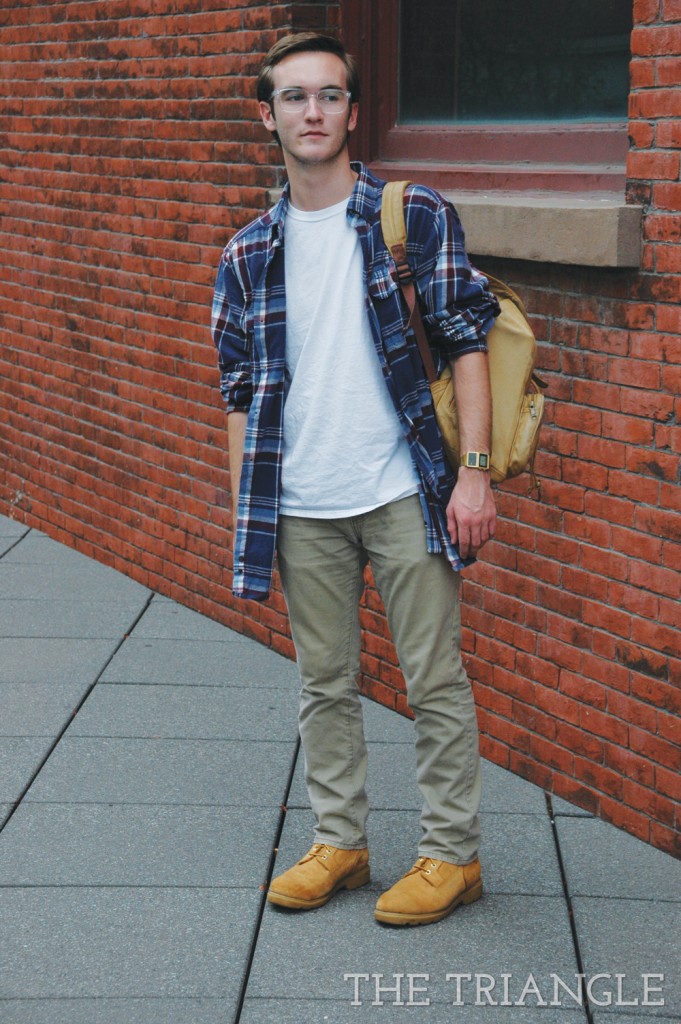 Jack O'Connor, sophomore, entertainment and arts management major with a social entrepreneurship minor
Wearing: Warby Parker Nash in Crystal glasses, vintage flannel, Fruit of the Loom's basic white shirt, Casio Gold calculator watch, vintage tan leather drawstring bagpack, Old Navy chinos and Timberland boots.
The Triangle: How would you describe your personal style?
Jack O'Connor: I would say my style is a mix between comfort and class. I won't leave my apartment in sweatpants and flip-flops; but I have a busy schedule, so something relaxing is always optimal.
TT: Where do you grab your style inspiration ?
JO: My closet is a pretty even mix between old and new. I keep up with some trends as they come into retail stores, but I also have clothes from my grandfather's attic that give me unique items. It's kind of a cool challenge to mix the two.
TT: What are your must-haves for fall?
JO: My must-haves are a good pair of Chelsea boots, some solid crew neck sweatshirts, a few thermals for layering and a beanie or two for those colder nights.
TT: What are two pieces in your wardrobe that you can always rely on?
JO: I have one pair of maroon pants that are really comfortable, like sweatpants comfortable, but they are chinos, so those are my off-day go-to piece. My other is my watch collection. They [include] the time and date so at least one aspect of my life is always on track.
TT: What are some of your favorite places to shop?
JO: My favorite places are H&M, Urban Outfitters, Forever 21, American Apparel (when I have the money) and of course any thrift store.
TT: What is one fall trend you're looking forward to wearing?
JO: Definitely my new Chelsea boots! They are set to arrive this week and I have a feeling I am going to be wearing them quite often.
TT: What's your personal motto on style?
JO: My personal motto on style is dress the way you want, have fun, try new things and be a little bold. But over everything, be comfortable!