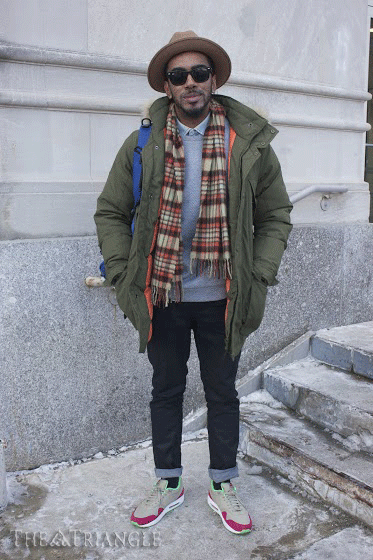 Etienne Maurice, senior, film and video major
The Triangle: What are some of your favorite places to shop?
Etienne Maurice: Most of the pieces from my closet come from Asos, Zara and Topman. You can't beat their prices — especially when they're on sale — they fit well and they have a wide variety of dope items that last more than two seasons.
The Triangle: What are your essentials for surviving the winter season?
Etienne Maurice: If I didn't have my wool coat or my parka jacket in the winter, I'd be depressed … and cold. I'm also really big on beanies and fur pilot hats to keep your ears warm.
The Triangle: What trends are you looking forward to sporting for spring?
Etienne Maurice: I try not to follow trends, but I really can't wait to wear more of my sneakers come spring and summer time. It's a bummer always having to wear boots in the winter so your toes don't freeze or to prevent you from slipping on frozen sidewalks … no bueno.
The Triangle: What are a few must-have pieces in your wardrobe?
Etienne Maurice: Being from Los Angeles, I faithfully wear an assortment of flannel shirts. Also, this past year, I've been a big fan of wearing my grandfather's old wool felt hats he always used to rock. I used to think they were funny looking when I'd see Pharrell and other celebs wear them, but when I jokingly tried them on, I was like, "Wait a minute … this actually looks pretty fly on my head!"
The Triangle: How would you describe your style?
Etienne Maurice: To be honest, my style varies from time to time. You might see me one day looking really bumpy in some Nike SBs and low-crotch sweats, and the next day I could stunt in some Chelsea boots and wax denim. I enjoy dressing up and down. I guess it all just depends on how I'm feeling that day.