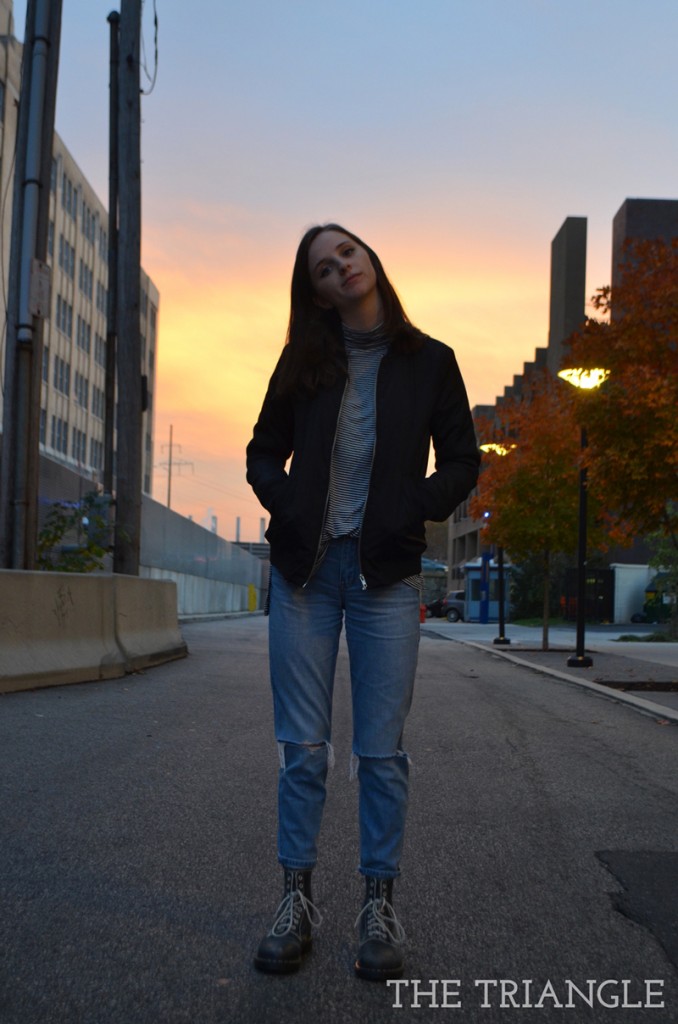 Abbey Nesbitt, sophomore, graphic design major
Wearing: Abercrombie shirt and jeans, Forever 21 jacket and Doc Martens boots.
The Triangle: How would you describe your current personal style?
Abbey Nesbitt: I would say that my style is pretty minimal. I tend to go for comfort and simplicity. I wear a lot of blacks and neutrals and a couple of muted prints here and there.
TT: Where do you get style inspiration?
AN: Musicians and artists. I am really into both fields of music and design and I love the way that a lot of my favorite artists dress.
TT: How do you determine your outfit for the day?
AN: Honestly, I just kind of throw things together in the morning. I'm not too much of a planner. I guess whatever feels right.
TT: What are two timeless pieces in your wardrobe?
AN: A pair of black jeans because they go with anything, and my jean jacket because it's a good layering piece.
TT: What are some of your favorite places to shop?
AN: Philly has some great thrift shops. I really like Buffalo Exchange and Philly Aids Thrift. Besides that, I am usually stalking Zara's TRF online or the sale section at Urban Outfitters.
TT: What's your personal motto on style?
AN: Wear whatever makes you comfortable. I think if you're comfortable you're confident, and that's pretty important to personal style.