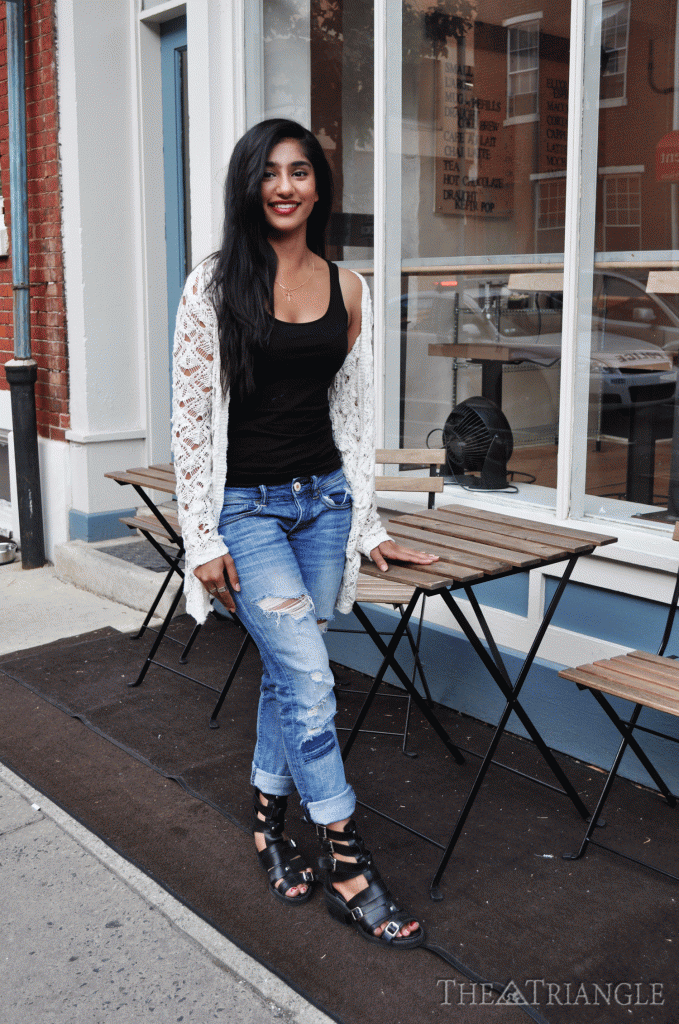 Elizabeth Parambath, Pre-junior, Psychology
Q: What are you wearing today?
A: I am wearing an H&M basic blank tank and rings, an American Rag cream knit cardigan, American Eagle ripped boyfriend jeans and Jeffrey Campbell sandals.
Q: When did you begin developing your own style?
A: For the longest time, I blindly picked out my clothes solely for the purpose of just covering my body with something. However, right before high school I decided I wanted my clothing to be a creative outlet and definition of my character. From then onward, I started to embrace myself and experiment.
Q: Where do you get your style inspiration?
A: I am inspired by the city that I live in. I'm a Philadelphia native and I really appreciate the laid-back urban style that comes from this area.
Q: What are three items in your closet that you can't live without?
A: I have a delicate gold cross necklace that I wear every day without fail; it has sentimental value to it and I cannot take it off. Next, my tights are a closet-must. When my legs are looking a little rough but I still want to wear a dress, my tights have got me covered! Lastly, even though it's not a clothing item, I love to rock a bold red lip because it really does complete any outfit. My dark red lipstick is definitely a closet staple.
Q: What is your favorite season to dress?
A: Autumn. I adore the weather. Scarves, beanies, tights, leather jackets — oh yes!
Q: What are some of your favorite stores?
A: I don't have a particular set of favorite stores. I'm pretty open to anything as long as it fits my broke college student budget. However, when I do shop, I tend to shop online or thrift.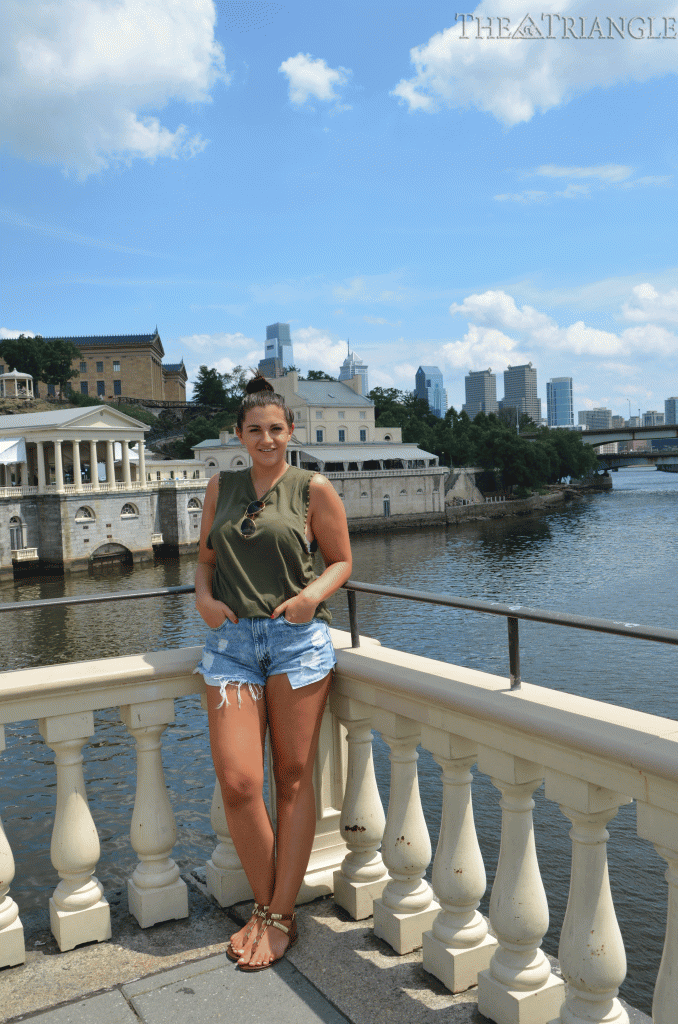 Jenna Colkitt, Junior, Communication
Q: What are you wearing today?
A: I am wearing a Forever 21 top, Levi's shorts, Steve Madden shoes, Ray-Ban sunglasses and a vintage necklace
Q: How would you describe your style?
A: Casual, simple and comfortable.
Q: What is your must-have clothing item?
A: My high-waisted Levi's jean short cut-offs. I love them.
Q: What is your favorite store to shop in?
A: Forever 21, because they have inexpensive and cute clothes.
Q: What trend are you most excited about this fall?
A: Layers. They definitely add something to your look while keeping you warm.
Q: Who is your celebrity style icon?
A: Julia Engel from Gal Meets Glam.