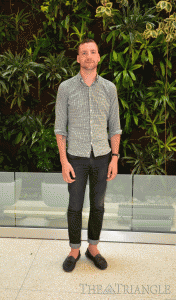 Martin Leichter, junior, psychology and creative writing
Wearing: CommonWealth Proper shirt, 20Jeans pants, Cole Haan shoes, Tissot watch
Q: What is something interesting about you?
A: One time I went to a [leper] colony; that was pretty crazy. It was off of the Amazon River in Colombia. It was basically this mansion where people hung out that used to have leprosy; it's not around anymore though. The people were all disfigured and old. They were missing limbs and their faces were all caved in and there was this one guy who was carving animals out of wood from Amazonian trees and I bought a jaguar from him. It had missing paws and knives instead of stubs.
Q: What is an activity that you've participated in recently?
A: I just got back from Haiti actually. I went on a literary tour to study writing with Haitian authors there.
Q: Why did you choose to come to Drexel?
A: Because I just wanted to get out of Ithaca, [N.Y.] I don't know, I've been thinking about that a lot recently because when I first toured the school, there were none of these cool buildings. I was just so eager to get out of Ithaca, but it wasn't because of the co-op. I looked at Temple [University] too, but that was just a little too crazy.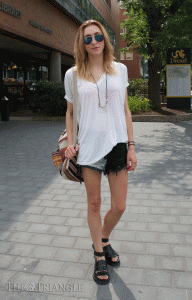 Emily Hassel, pre-junior, design & merchandising
Wearing: UNIF shorts, Dr. Marten sandals, Urban Outfitters sunglasses
Q: How would you describe your style?
A: I would say it would be if a bohemian rocker had a baby with an alien.
Q: What is your favorite pastime?
A: I really like to make my own clothes. I dip-dye my own T-shirts and bleach and destroy them, or burn them with cigarettes. It's really fun.
Q: If you could go anywhere in the world, where would you go?
A: Australia, for sure, because I'm obsessed with sharks and they have really good scuba diving there. The people just seem to have an overall understanding of life. They are very laid back, yet they get stuff done. The fashion industry is really booming over there.