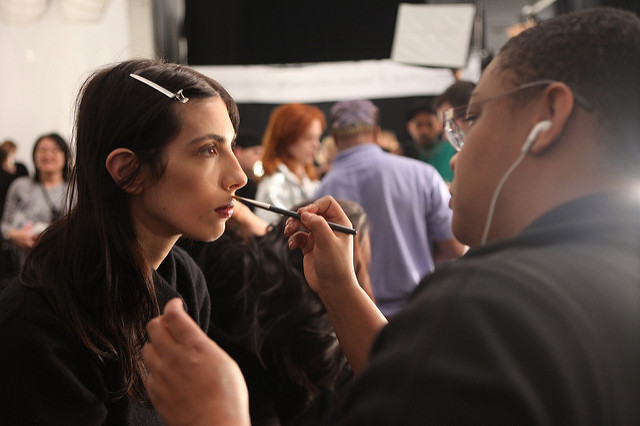 Got the Blues
During the Spring 2016 runway season, cool colors used for makeup such as cobalts, indigos and and ceruleans were front and center. Brands including Chanel, Diane von Furstenberg, Monique Lhuillier and many others put this trend into great use. If you want to use this beauty trend into your own makeup routine, swipe a glittery line of cobalt eyeliner across your lids for a subtle look. If you're looking to make a bold statement, prime your lids and pack on the cobalt until it is completely opaque. Because this color is so bright, keep the rest of your face as bare as possible. You'll definitely turn heads!  
Vamp it up
Usually vampy red and berry hued lips appear in Fall season. However, this beauty trend is making its way into the spring as well. Burberry recently had their models strut down the runway with this sultry lip color. If you want to add this beauty trend into your makeup routine, find a shade that goes with your complexion. Line the lips and smear on a couple of layers of the color you chose. To keep this look fresh, add a layer of gloss on top of the lipstick.
Get Naked
Even though spring is right around the corner, speed right through it and head into summer with this "barely there" makeup trend. You'll want a sheer foundation and a matte contour color to sculpt those cheekbones and thin out your nose. Other than that, add one or two coats of clear mascara and dab nude lipstick with your fingers. That's it!
Twist and Shout
Though spring can present us with some beautifully mild weather, there will probably be sweltering days too. We promise that you will not want your hair down on the back of your neck. Instead of a quick ponytail, try a twisted bun on top of your head. Create a messy ponytail, twist it, messily wrap it around the base and bobby pin it down. You can stay cool and fabulous at the same time.