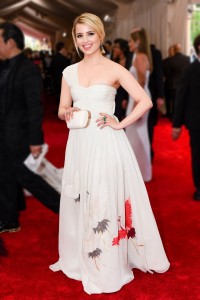 The Metropolitan Museum of Art was flooded with celebrities, models and designers during the Met Gala May 4. The Met Gala marks the opening of a new exhibition showcasing beautifully crafted creations by the best and most innovative designers. This year's exhibition named, "China: Through the Looking Glass," celebrated western fashion influenced by Chinese culture.
The dress code for this year's red carpet was Chinese white tie, which worried many attendees due to the possibility of looking stereotypically Chinese or being culturally offensive. Some looks delivered above and beyond, while other attendees did exactly what some had feared by wearing Japanese style looks that many people misinterpreted as Chinese. Some of these looks included kimonos.
One of the looks that stood out was Rihanna, who was one of the few celebrities to wear a dress by a Chinese designer. Her dress was handmade by designer Guo Pei, whose work is also featured in the exhibition and took 20 months to complete. The elegant imperial yellow dress and the beautiful matching cape weighed around 55 pounds.
Another guest that fit the theme perfectly was singer and actress Zendaya, who wore a short gown with a plunging black bodice and a crimson silk skirt with a long, flowing train. The dress was custom made by Italian designer Fausto Puglisi and was covered in hand embroidered crystal and velvet sun motifs. Zendaya accessorized her look with matching cuffs and a tiara.
Rising supermodel Gigi Hadid played it safe but looked just as dazzling in a custom red Diane von Furstenberg gown. Red is the color of joy in Chinese culture, so Hadid's look subtly gave a nod to the Gala's theme. The dress also featured a beaded rose petal design at the top and a thigh-high slit.
Upon entering the exhibition itself, visitors were immediately greeted by all black and white pieces by designers Jean Paul Gaultier and Craig Green. Soon after, visitors entered a room graced with beautifully crafted pieces by the designers such as Valentino, Alexander McQueen and Givenchy. Each room in the exhibition had its own attitude and style, transporting them into slightly different worlds with each turn. Throughout the exhibition, various television screens played film scenes accompanied by dramatic music, mesmerizing visitors even further.
High profile western designers are not the only ones under the spotlight, as a number of Chinese designers were displayed including Guo Pei. In the exhibition, Pei had an entire room that held a gorgeous golden gown inspired from a lotus flower. The gown's details were exquisite, and every bit of effort that went into it is extremely noticeable to any viewer.
The exhibition contained not only designs but also Chinese artifacts and gorgeous painted porcelain.The exhibition will be displayed until August 16. It's truly a must see event!