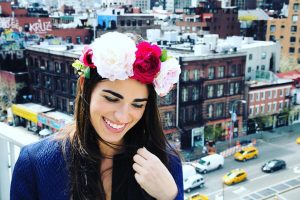 Olivia Anton, Student Director
The Triangle: What are your responsibilities as the Student Director?
Olivia Anton: As Student Director of the Drexel Fashion Show, I oversee, coordinate and motivate team members in all aspects of the 200-garment fashion show. I attend all model selections, garment pre-selections, fittings and judging and ensure that all deadlines for mailings, programs, and invitations are met.
TT: Have you completed any internships?
OA: I interned at Alison Brod PR in New York City for six months last year for my Drexel co-op. My responsibilities included: assisting with mailings, managing press clips, maintaining the sample closet, styling and assisting on-site and off-site events for our fashion, beauty and lifestyle clients, as well as working on the Mercedes-Benz Fashion week. I had an amazing experience. It was a ton of work but I learned so much but got to work on awesome events and meet interesting people.
TT: Do you have any plans for after graduation?
OA: Currently, through my network of colleagues at Alison Brod PR, I will work this spring for [Christy Meisner Doramus's company] Crowns by Christy, a start up with innovative, unique, floral crowns for special occasions.
In the past I was also the PR Representative for Rent the Runway on the Drexel campus. This past summer I studied fashion business at The London College of Fashion in London, England. I have written four stories for the Drexel D&M Magazine, which is published once annually in the spring. Along with writing, I used my design, Photoshop and InDesign skills to create the layout and design of the magazine.
After graduation I'm going to move to New York City. I'm currently working part-time at Crowns by Christy. I go to NYC every so often to work and do Christy's social media from Philadelphia. I'm currently planning to work for her after graduation unless there is a job opening at my past co-op. I'm very excited to move to New York City and take the city by storm.
TT: What have you learned during this process?
OA: Being the Student Director is a ton of work. I'm juggling with a bunch of different tasks and emailing many students and faculty. I have very strong organizational skills. I have a planner and notebook where I note down everything I need to. It helps me stay on track and ahead of the game. I enjoy being busy and all the work makes me very excited for the Fashion Show.
Being the Student Director is very exciting because I get to work with my diligent and passionate classmates and my amazing teacher, Catherine Byers, as well as the other faculty members at Drexel. It's a team project and I'm enjoying working with everyone and helping coordinate all aspects of the show. I also love how close I've gotten with some of the fashion designers. They're all so talented and work so hard. I'm excited for the show to come together and to see all the hard work pay off.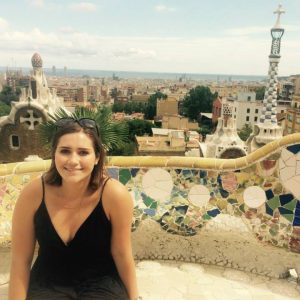 Gina Knox, Garment Coordinator
The Triangle: Tell me about your role in this years fashion show?
Gina Knox: As this year's garment coordinator I am in charge of overseeing all 191 looks that are in the show. This started at pre-selection with cataloging all the garments that were submitted for review by the faculty and continues to both the judging event in which students receive awards for excellence in different areas and the show. For both the judging event and the show I work with the designers to make sure all items are delivered and that the volunteers that are backstage at the show have clear directions.
Another big part of my job this year has been to work with the digital media students on the app they have created for judging. In the past we would use Google Forms and Excel to calculate the results, however this year they have created an app that will automatically calculate the results. As with any new technology we have had our share of problems that need to be fixed but we are really excited about the efficiency and accuracy the app will provide.
TT: Where did you work during your co-op?
GK: I worked at Shoshanna, which is a women's ready-to-wear and swimwear designer enterprise located in Manhattan. The brand is sold through small boutiques across the country as well as Saks, Neiman Marcus, Bloomingdales and other online retailers. The office is small so I would work with everyone from sales to production to PR and online promotion. I loved working there because I got to learn a lot about the business and what I am interested in and they were always helping me grow by giving me additional responsibilities throughout my six months there.
TT: What has been the most exciting part of this experience?
GK: My favorite part of this experience has been getting to work with such a wide variety of people. Just the D&M students or just the fashion design students can't put on the fashion show alone. It takes a lot of work by individuals from different disciplines to make the show come together. And of course that includes our professors who are always there to support us both in tasks that have been done before and in the new additions to the show we have this year.
TT: As garment director, you would probably pretty familiar with the designs. Tell me about some of collections?
GK: One of the great things about the show this year is that the designers all have such a wide range of styles, yet are all so great at what they do. We have a really sweet children's wear collection. Finally, we have a lot of fantastic eveningwear pieces. We also have some collections that incorporate androgyny while others reflect the heritage of the designer. As I have gotten to know the designers, I can see all of their personalities reflected in what they made, making for a really diverse, interesting show.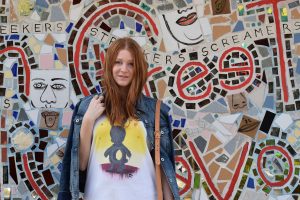 Emily Engle, PR and Marketing Director
The Triangle: What are your roles and responsibilities in the show?
Emily Engle: My main responsibilities as the PR/Marketing Director include writing press releases, contacting media outlets and running the social media for the show. Along with the Student Director of the show, I've also been creating short video interviews with each senior/graduate designer about the inspiration for their collections. I've been posting these videos to our YouTube and Facebook pages. They've been a great way to create a connection between the audience and the designers, which is something I think will be important for the future of the show due to social media's growing presence in fashion. People want to feel connected with events, and giving them insight into the creative process of the show is one way to accomplish this.
TT: Where did you do your co-op?
EE: I completed my co-op as a Design Assistant Intern at Nation Design in NYC. It was a very insightful experience. I learned a lot about myself and it opened my eyes to how complicated the design process is. I loved every minute of it.
TT: What are you planning to do after you graduate?
EE: When I graduate this June, I will be moving to NYC to work as the Editorial Assistant at Core77, an industrial design magazine. My experience working for the Fashion Show helped me secure this position. At Core77, I will be working on very similar projects, such as running some social media, writing about events/products and keeping in contact with a million people at once. Core77 was also very interested in the idea of video production, so I was able to bring something new to the table thanks to my experience with the Fashion Show.
TT: Putting on a fashion show is both very exciting and difficult. What have been some of your favorite aspects and challenges during this process?
EE: My favorite part of this experience has been getting to know all of the Fashion Design students that have been working extremely hard to produce their collections. D&M and fashion design are two completely different departments, and we are so busy doing our own things that we really don't get a chance to mix during our four years at Drexel. The fashion show does a great job of bringing the two departments together at the end of our Drexel careers to create something beautiful.
We have had to face so many challenges during this process, but that's just the way it is. Fashion shows are very fast paced, and there is never enough time to do everything we wish we could. Whenever you get multiple departments working together, there are going to be mishaps, but everyone has done a wonderful job of keeping it together. It amazes me every day that we're able to laugh everything off and keep going.
TT: Tell me something you've learned from this experience.
EE: By being a part of this fashion show, I have learned that communication is key. This seems so obvious, but this is the first time I've helped with something of this scale. With so many people coming together, all with different tasks, it is extremely important to make sure you are communicating with the right people at the right time in order to get things done. It's a lot of relying on people and trusting them to do tasks for you, which can be nerve-wracking and rewarding at the same time.