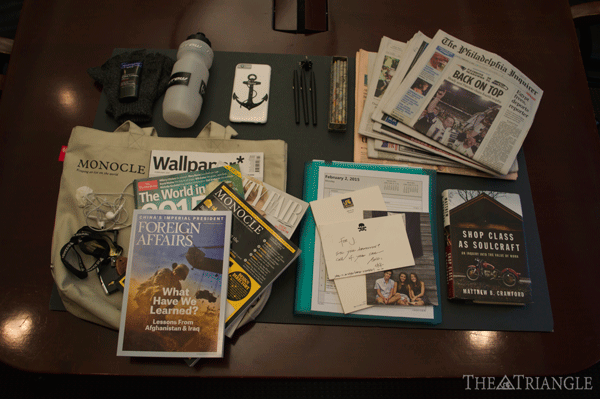 This week, President John A. Fry gave us a glimpse into his beige canvas Monocle tote bag that holds his essentials for his daily routine. He chooses to use a tote bag because it is both durable and simple to clean. "It's just easier. I like the fact that it has zippers and pockets; most canvas bags don't. Having those little things is great, because I tend to throw all my stuff in and just zip it up so I don't lose it," Fry said.
In his trusty tote he carries:
A picture of his three children, taken at their beach house in Long Island.
A travel note and seashell from his wife, little reminders of summers spent at the beach with his family.
Miscellaneous office supplies litter the bottom of the bag, including pens, binder clips, a box of colored pencils from his wife — he uses them to doodle — and a notepad in case he needs to write anything down.
A reusable water bottle from Harrow, which Fry finds very convenient.
In an easy to reach side zip pocket, Fry carries the keys to his car and office. He carries a keychain made by his son, with the number five etched in it, a number that represents how many people are in his family. The keychain was made last summer, in his son's woodworking shop in the basement.
He also stores his charcoal Urban Outfitters fingerless gloves in that pocket. He likes them because he can text and type with them.
Since he travels a lot, he keeps Neutrogena men's face lotion in his bag. "It is nice to have a little face lotion when the weather is changing or I'm is sitting in the airport and my face is dry," Fry said.
Most of his tote contains reading material, which Fry finds a must-have for anyone traveling a lot. "I'm always sitting on planes or trains or in an airport or waiting for the next squash match, so I always have a ton of reading," Fry said. He tries to read six newspapers a day, including Philadelphia, New York, national and international news. He is currently slightly behind and although he is not always successful, he tries his best. When he misses three or four days of reading, he carries extra newspapers in a shopping bag.
His favorite publication, Monocle, an international travel "politics style" kind of magazine. "I was in an airport and I picked it up. [From then on,] I just kind of got addicted," he said. After he subscribed to it, he was sent this tote bag that he uses daily.
Other reading materials that he carries include the two most recent Foreign Affairs, The Economist, Wallpaper Magazine and Vanity Fair.
The current book that he is reading, "Shop Class as Soul Craft: An Inquiry into the Value of Work" by Matthew B. Crawford. He said that so far "it's a great book about the nature of work in America."
A teal folder that holds all of his prep material for the day, as well as a daily schedule. On this particular day, Fry had 13 appointments and a dinner.
His iPhone, with an anchor phone case gifted by his wife, and headphones. The size of his phone is easier on his eyes, which is vital since he does a lot of work on it.