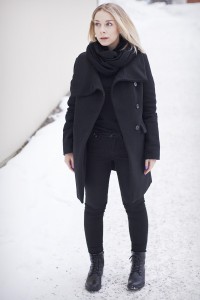 The dropping temperatures have confirmed it: winter is slowly moving in to take fall's place. Chunky cardigans and knit sweaters are no longer enough to keep you warm during the progressively colder weather. While it's not yet time to pull out the bulky winter coats, heavier outerwear is definitely essential for the next two months or so until the harsh winter begins. Runway shows this season across the globe have displayed a number of ready-to-wear coat trends that are sure to make their way into your closet.
Earlier this spring, the 70s trend started to make its way onto the scene. By the fall, its influence was everywhere in clothing such as turtlenecks, flare jeans, fringe jackets and purses. Bring the cool vibes into the winter with a suede coat. The smooth, buttery material is luxurious to the touch. If you're worried about the material falling flat and looking too stiff, a wrap or tie-front style will be the prefect option to add dimension and slim the waist.
The military trend has been seen on runways season after season, and this fall will be no exception. Currently, the trend has inspired designers Chloe, Jil Sander, Lanvin and Valentino, to name a few. Military inspired coats are available in an assortment of lengths and can be worn unbuttoned to look less formal. The reefer coat, not to be confused with the average pea coat, perfectly embodies the military trend as it takes inspiration directly from the U.S. Navy.
It's safe to say that fur pieces have their moment every fall or winter season. Once you've purchased a great fur coat, you'll never consider wearing anything else. The soft and plush fur will keep you feeling warm and looking fabulous in every sense. If fur is not your thing, a faux fur stole is a great way to introduce the trend to your wardrobe. It adds the same luxurious look as a fur coat to just about every coat you own.
Another accent making its way onto outerwear is a shearling lining. If you love your neutrals and don't want to give them up in the winter, this is the perfect trend to do so. Also, if you aren't ready to part ways with leather jackets just yet, finding one with shearling accents keeps you right on trend. Boucle is also another trend that has taken over just about all things considered cozy, including sweaters, cardigans and scarves. The thick fabric will definitely keep you warm and the texture will make sure your look doesn't go flat.
You can never forget the classic wool coat in the winter. Long duster coats are always a great way to show off your outfit while still staying warm. A cape coat is also another option since it's a chic and classy silhouette that allows you to stay toasty without looking bulky and bundled up. Whichever shape you go for, wool coats are definitely the most practical option for the brutal weather. You will undoubtedly be snug, but you don't have to sacrifice looking amazing while doing so.