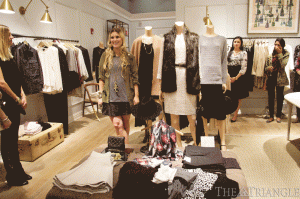 "Sophisticated, timeless, and urban," the three adjectives selected by Club Monaco's store manager to describe the brand's distinct style.
Walnut Street shoppers enjoyed the ongoing fall fashion festivities Sept. 26 at the Club Monaco in Rittenhouse Square. In an event hosted by Emily Goulet of Philadelphia Magazine, customers had the chance to consult her for fashion advice as they browsed the store's newly released fall collection. Attendees of this event were met with champagne, small, delicious desserts from Starr Restaurants, and an exclusive discount on all merchandise. But even with these exquisite preparations, customers were more drawn to the Club Monaco style — simple and classic with a touch of contemporary flare.
Goulet styled three mannequins to model her favorite pieces for the season. Each silhouette succinctly embodied the style sense of Club Monaco as well as upcoming fall trends. The first outfit featured a dark beige cape jacket lined with leather and finished with a perforated black miniskirt. Goulet referred to the look as "lux, voluminous, and retro," and stated that the cape jacket is the single best investment piece shoppers could purchase. Leather has made a return to the fashion world and Club Monaco combined it with an outerwear piece that, according to Goulet, will "never run out of style."
The second look exhibited a deep olive fox fur vest over an off-white pleated dress to complete an outfit that has the feel of the '70s period. With this pairing, Goulet stressed the importance of utilizing clothes with different textures. As an example, she recommended coupling the fur vest with a clean silk-made cocktail dress for a dashing look that will "ease you into winter."
The last outfit displayed an oversized grey sweater and a knee-length black skirt. These simple, yet chic items play with varying lengths and proportions. Mixing lengths is a current theme in women's fashion and Goulet even goes as far as suggesting to order a size up to get the look.
Club Monaco is at the cutting edge of style as it features the latest trends in fashion in their signature classic twist. Reinforcing the brand's vision for timelessness, garments feature primarily a single solid hue rather than busy patterns. Their number one selling item this season, the Colby dress, is a plain white dress with a few tiers that end just above the kneecap. As one attendee of the event said, Club Monaco fills her closet with "trendy basics."
Out of their extensive assortment of day-to-night looks, Club Monaco's claim to fame is their signature line of authentic Italian cashmere. Their cashmere products are available throughout every season, even as they unveil a new collection every month. Though the clothes are undeniably stylish, the price tag might make a college student think twice about taking it off the rack. However, with trends changing every month, it is important to invest in a look that will never turn obsolete. In her highly anticipated event, Goulet proved to shoppers that Club Monaco is the store to visit for an updated wardrobe that has the newest trends in the classiest ways.