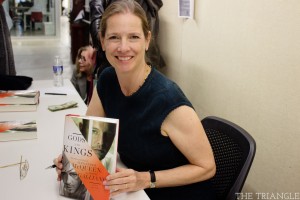 On April 3, Dana Thomas, the New York Times bestselling author of "Deluxe: How Luxury Lost Its Luster," took the floor in the URBN Center to talk about her newly released book, "Gods and Kings: The Rise and Fall of Alexander McQueen and John Galliano."
From her relaxed demeanor and casual vibes, Thomas immediately eluded expertise as she entered the room. Speaking to the small audience as if it was one of her own lectures, she started to talk about her own past and how she began to dabble in the wide world of fashion. Curiously shy about her early professional life, she gave a glimpse of her earlier endeavors. She worked first as a model and then landed one of her first "real" jobs writing for the style section of the Washington Post. Since then, she has moved to Paris, and after writing for a slew of style giants, she found her own voice and passion in books.
Her most recent endeavor, "Gods and Kings," gives readers a look at the fashion industry and its developments through a more personal lens: the lives of two of the world's most famous designers, Alexander McQueen and John Galliano. In order to introduce the book and her passion for it, Thomas first expressed her own personal bewilderment when hearing of the passing of McQueen and then the arrest of Galliano shortly after. As someone who had been trained to dig deeper, Thomas sensed that the downfall of the two men was not just a coincidence. In order to really examine the end of both of these men's stories, she first went back to the beginning.
Standing in front of around 50 college students, Thomas embarked on a both linguistically artful and unexpectedly lively recount of both McQueen and Galliano's humble beginnings. Both lived and worked in basements in London, working with buckets and handcrafting each article of clothing themselves. As she intertwined and talked about each man and his progressing work, she would pause to display, appreciate and connect a piece or two from each runway show to really demonstrate how these factors impacted each style that was created.
By the familiarity that Thomas seemed to have with the intricate details of each of these men's personal lives, students and teachers alike could not only tell that she had relentlessly researched, but also that she had put her heart and soul into this investigation. Rather than giving us a look at what most of us had already seen from the outside — a glance of the peculiarities that were McQueen and Galliano — Thomas instead decided to take her audience in URBN to the other side of things — the inside. After building up so much of the designers' thoughts, lifestyles and original interests with the audience, Thomas meticulously showed us how, piece by piece, the fashion industry picked these men apart.
Thomas spoke about the recent changes in the fashion industry and how a company's growth now matters more than its designs or products. She explained that the industry had changed, had grown and had taken down some of the greats. "By the end of their careers, McQueen and Galliano were not creating, they were managing and telling other people how to create. In a way, they weren't doing any of the job that they had been hired and loved to do," she said.
Although the ridiculously fast-paced and growing industry had taken down two of Thomas' "Gods and Kings," she doesn't think all of us fashion-fanatics should lose hope. She hopes and foresees that the market will return to a more brick and mortar based style, focusing more on quality designs and products — on the art — that was, and always will be, fashion.