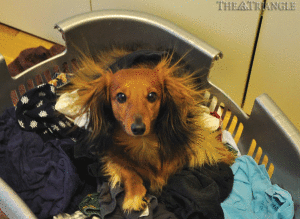 Forget the whistle of below-freezing winds, the sound of teeth chattering and premature holiday songs, I know that winter is coming when I start hearing crackles of static coming from my head. From my hair, to my sweaters, all the way down to my warm pink fuzzy socks, static is virtually inescapable. All I dream of is a day where I can take off my infinity scarf without having my hair rise up and swallow my head. After trying lotion, water spray bottles, hydrating conditioners, I have narrowed down a list of easy methods that actually work to diminish static. Follow these simple fixes to finally rid yourself of this winter annoyance.
1. Just as dryer sheets work to take static out of your laundry, you can use them to take the electric charge out of your hair. Rub a dryer sheet lightly through your mane to rid yourself of static. You can also rub your comb or brush with the dryer sheet before brushing hair. As an added bonus, you'll smell nice!
2. Instead of using more and more dryer sheets, try drying your laundry with aluminum foil balls. Create balls of foil about the size of your fist and include three to five in your next dryer load. The foil balls can be used over and over again, and work perfectly to discharge your clothes. (Tip: wrap several layers of foil around tennis balls to make your clothes fluffier and dry faster.)
3. A quick way to make sure your clothes do not cling to each other is to use a wire hanger. Take the hanger and glide the longer side over your clothes before you head out the door. This works for all types of garments, but is especially useful for dresses and skirts that stick to stockings.
4. Start using hair oil or leave-in conditioner on damp hair after your shower. This will create more moisture in your hair and keep it healthy at the same time. Make sure to only concentrate on the ends, as to not weigh down the hair too much with extra product.
5. Switch from hairspray to mousse or hair clay for the same hold, but without the static. Because hairspray contains alcohol, too much can actually dry your hair rather than tame those flyaways. Instead, opt for mousse or hair clay to lock in your style and moisture.