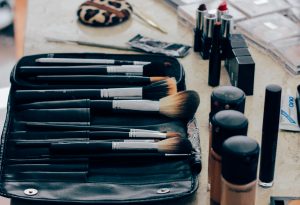 When Philly heat and humidity strikes, maintaining a solid skincare and beauty routine can be hard. Sure, some say it's weather like this where we can just leave our moisturizer and foundation behind, but those are the people you should never listen to. Having a routine during this time of year is just as important as any other. For those makeup fanatics that aren't willing to put down their full-face makeup look, there are ways to combat the heat and slay all day.
The one foolproof method I can offer to make your makeup stay in place and not budge is to set it with a beautyblender and translucent powder. This method is tried and true as well as life changing. What you want to do is dampen your beautyblender and dip it into a loose translucent powder. Like many makeup artists and celebrities, I absolutely swear by Laura Mercier's Translucent Loose Setting Powder. Dip the blender into this silky magical powder and press it into the skin. You can apply it to your full face or target the areas prone to smudging like the T-zone and under eye. There should be some powder residue left, and you'll want to let it sit there for about 10 minutes while it really sets in and works its magic. After those 10 minutes are up, take a fluffy brush and brush off any excess powder, and voila! You can show up anywhere and people will know you came to slay.
As for skincare, even in this heat where our skin tend to get more oily, you must never forget to moisturize. The best way to go about this is to apply a light day cream to a freshly cleansed face when you wake up. Also, make sure whatever moisturizer you choose includes some amount of SPF to help your skin fight off those harmful UV rays the sun is casting down all day. You can find light moisturizers with SPF at any pharmacy or shop selling beauty products.
Humidity also leads to sweating, which can often lead to breakouts. This is why it's important to give your pores a good scrub a few times a week. Pick up a face wash that contains a form of exfoliant to unclog them and keep any blemishes away. My top choice for a great exfoliating wash is Dark Angels by Lush Cosmetics. It contains black sugar and charcoal to scrub away dirt and absorb excess oil. To kick up your routine another notch, use a face mask two to three times per week. Since charcoal is perfect for fighting off oils that build up on the skin, I suggest using the Clear Improvement Active Charcoal Mask by Origins. As an added bonus, it contains white china clay, which absorbs environmental toxins we are so heavily exposed to while living in an urban area.
At the end of the day, I cannot stress how imperative it is to wipe your face off. Make sure you've gotten all that excess oil, sweat and makeup off before you even think about hitting the pillow. Clinique's Take The Day Off Cleansing Balm, or a similar product, will remove everything in one step (even eye makeup). It's so gentle and will leave your skin feeling super soft.
Incorporate these steps into your routine and you'll keep looking fabulous all term, and your skin will be oh, so grateful.