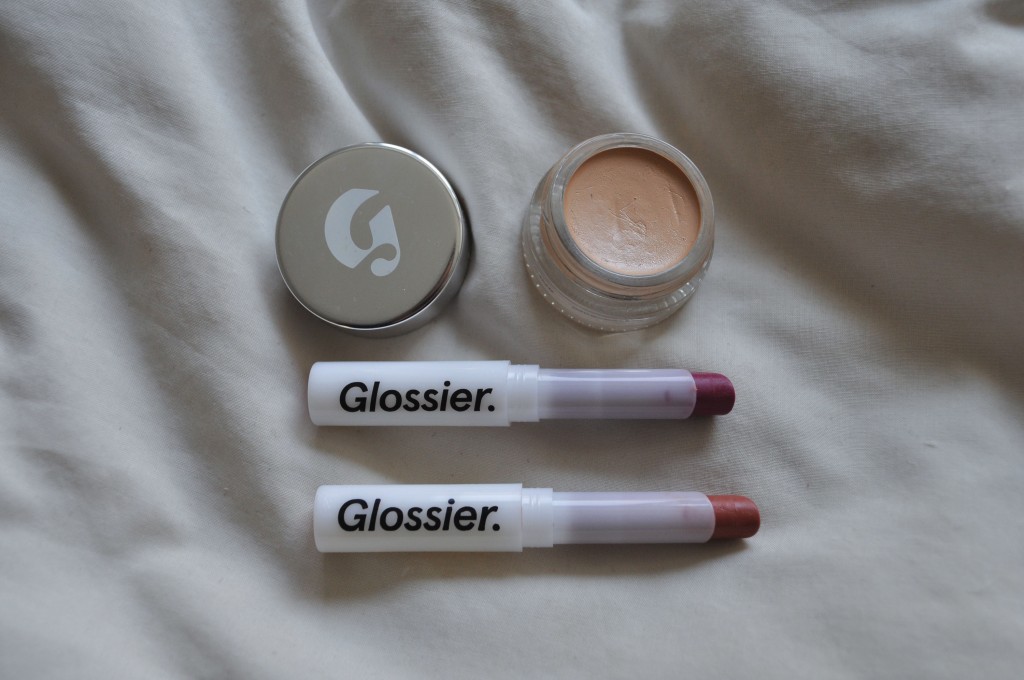 Emily Weiss, founder of beauty website Into The Gloss, launched a makeup and skincare line named Glossier in October of 2014. As a former employee at Teen Vogue, Vogue and W magazine, Weiss quit the fashion editorial industry to launch her own website and beauty company. Since then, Glossier has created over ten products, ranging from skin tints to moisturizing face masks. The line is incredibly curated at its highest quality, and provides skincare and makeup products that create a healthy, glowy and dewy complexion. The line has also garnered lots of attention from magazines including Marie Claire, Allure and The Huffington Post and, in 2015, Weiss was also selected as part of Forbes magazine's 30 under 30 list because of the huge impact both Into The Gloss and Glossier had on the beauty industry.
As an avid user of Glossier, I have found that this line completely transformed my skincare and beauty routine. It minimized and simplified my morning regimen with easy to use products with long-lasting effects. Here are my thoughts on all the Glossier products that I own:
Perfecting Skin Tint
Hands down the best foundation I have ever used. The skin tint comes super sheer. With just eight to ten drops, it can cover all of your skin's redness and mini-blemishes without covering your beauty marks or freckles. It leaves your skin looking healthy, balanced and dewy. This skin tint has become part of my morning routine for the past few months and leaves my skin feeling fresh and smooth.
Priming Moisturizer
This product is usually the first thing I put on my face in the morning before any makeup product. It smooths out any dry patches I have on my face and creates an even texture. It's the perfect canvas for your makeup! The priming moisturizer is also buildable, so you can put as much on your face as possible (depending on the weather). Now, I've tried many different types of primers in the past, from different brands including Bare Minerals, MAC cosmetics and Maybelline. Let me tell you; this product is the best, because it evens out my skin tone, takes out any redness on my face and leaves my skin feeling balanced!
Balm Dot Com
Many of my friends who use Glossier bought this product as their first purchase! On the brand's website, it's described as, "a hydrating, long-lasting, do-everything skin salve that's packed with antioxidants and natural emollients to nourish and repair dry, irritated skin." Although many may use this product solely on their lips (which leaves your lips feeling smooth for the whole day), I put this product on my lids as well to achieve that dewy and fresh look. It works!
Milky Jelly Cleanser
This product is fairly new, and is already sold out on Glossier's website. Thankfully, I was able to purchase one bottle on the day this cleanser came out. This product can be used in two ways; as a facial cleanser to be used in the morning by mixing it with water and lathering it all over your skin. The second way of using this cleanser is as a gentle makeup remover used for the night, and can be easily incorporated into your nightly routine. The cleanser includes the same ingredient that you can find in contact lens solutions, so it doesn't irritate your eye area when you're removing your eye makeup.
Boy Brow
After this product sold out, it had a 10,000 person waiting list. Yes, you read that correct. Thankfully, Glossier restocked this product last month. This product comes in three different shades; blonde, brown and black, and can be used as an eyebrow filler or shaper. It brings life to your eyebrows by making them thicker and groomed in place.
Stretch Concealer
Glossier came out with their Phase 2 set last month, which included their boy brow, and two new products including their stretch concealer and four sets of lipstick (which we will review next!). This concealer is definitely very different from your standard concealer. According to Glossier's website, they explain how their stretch concealer "is a new type of concealer with elastic micro waves that move with your face instead of caking on top of it, and nourishing oils that give a dewy, glowing finish." From my personal experience with this concealer, it definitely covers my dark eye circles and occasional acne, but doesn't dry and cake up.
Generation G Lipstick
As someone who wears lipstick everyday, I was so excited to hear that Glossier added four new shades of lipsticks to their collection. Every lipstick has a matte finish, and gives your lips a nice little stain. What's special about these lipsticks is that the application of it feels like you're applying lip balm since it's very smooth. However, as soon as it sets in on your lips, it gives you a gorgeous, sheer matte look! I have two of the four lipsticks in Cake and Like. Cake is the lightest shade, and is their only nude lipstick. Like is the second lightest shade out of the four, and is a pretty soft pink–perfect for the spring season!
Mega Greens Galaxy Mask
Saving the best for last! As someone who has acne-prone sensitive skin, this mask does me wonders. Glossier describes this mask as "a juice cleanse for your face," on their website, and I completely agree. It detoxes my skin completely, and leaves it feeling smooth, fresh and balanced afterwards. The mask includes spinach, parsley, white clay, avocado oil and acai to name a few ingredients. I use this product twice a week, and it never disappoints me.
Overall, Glossier has truly transformed my skincare and beauty routine by providing basic, high quality and modern staples. Their skincare products get rid of all the dirt and oils from my face, and create a glowy and healthy complexion for the long-run. In return, the makeup products they have are everyday essentials, and enhance my facial features instead of covering them up. Their products are also incredibly breathable, meaning you won't feel like you have layers and layers of heavy makeup on your face. Glossier is perfect for any person who wants to achieve a natural, healthy and dewy complexion for their everyday life.