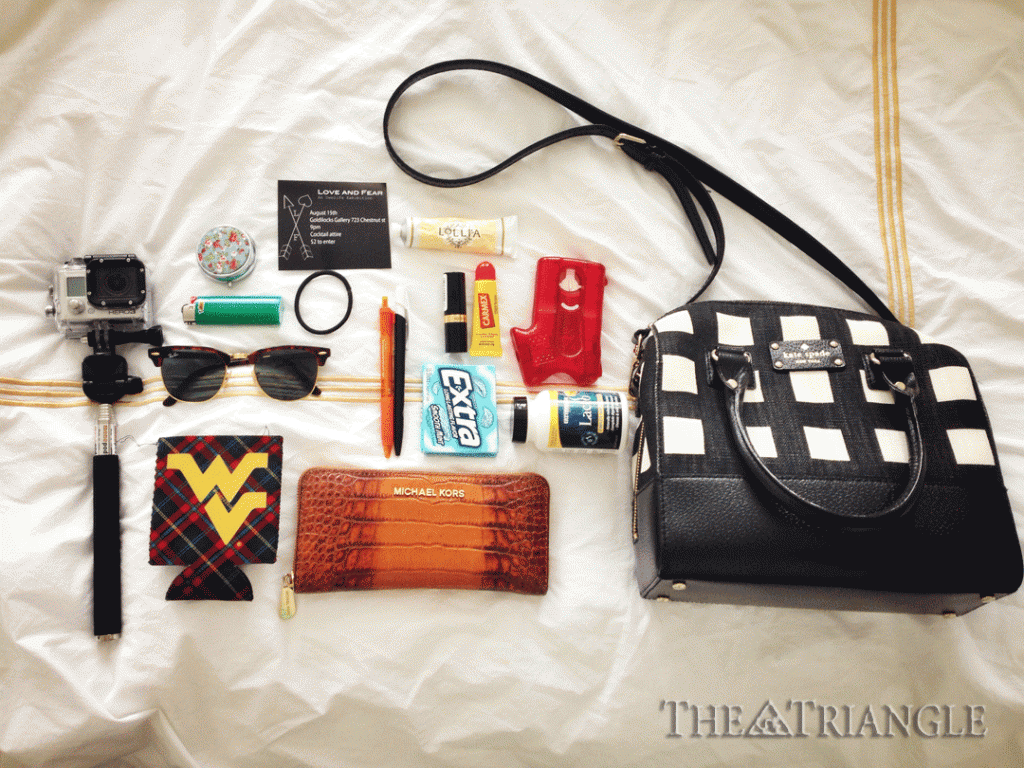 Jane Raese, a pre-junior photography student, showed that she is prepared for anything when she emptied out her trendy and unfailing Kate Spade New York bag and revealed what's inside.
"People always complain about how heavy their purses are, yet I would rather carry a heavy purse because more than once I have been caught in a situation where I needed certain essentials, and I did not have them," Raese said. "It's better to be prepared than not."
From left to right:
Her GoPro Hero3 to capture images of the world around her at any moment.
A floral pillbox that she always keeps with her.
A Bic lighter, which she thinks is handy to have with her at all times because "you never know."
Her favorite pair of Ray-Ban Wayfarer sunglasses.
A koozie from West Virginia University that her boyfriend gave her because she "always complained of holding cold beers during football season, and he wanted [her] to represent his school at Drexel."
A black card with the phrase "Love and Fear," which is the name of her friend's exhibition at the Goldilocks Gallery (opening Aug. 15) that she has been promoting.
Two different pens, just in case she loses one and has to take notes in class.
Her favorite wallet, with a stylish and elegant Michael Kors tan snakeskin print.
Her Lollia hand creme, which she likes to always have with her to freshen up.
She always has a Carmex lip balm and her favorite shade of Revlon lipstick, Blushed, in her bag.
The red toy gun is a pepper spray gun that her dad gave her for protection when she is walking on her own in the city.
The empty Lacto bottle (a pill used for lactose intolerance), which has been sitting in her bag to remind her to go pick up more at the store.