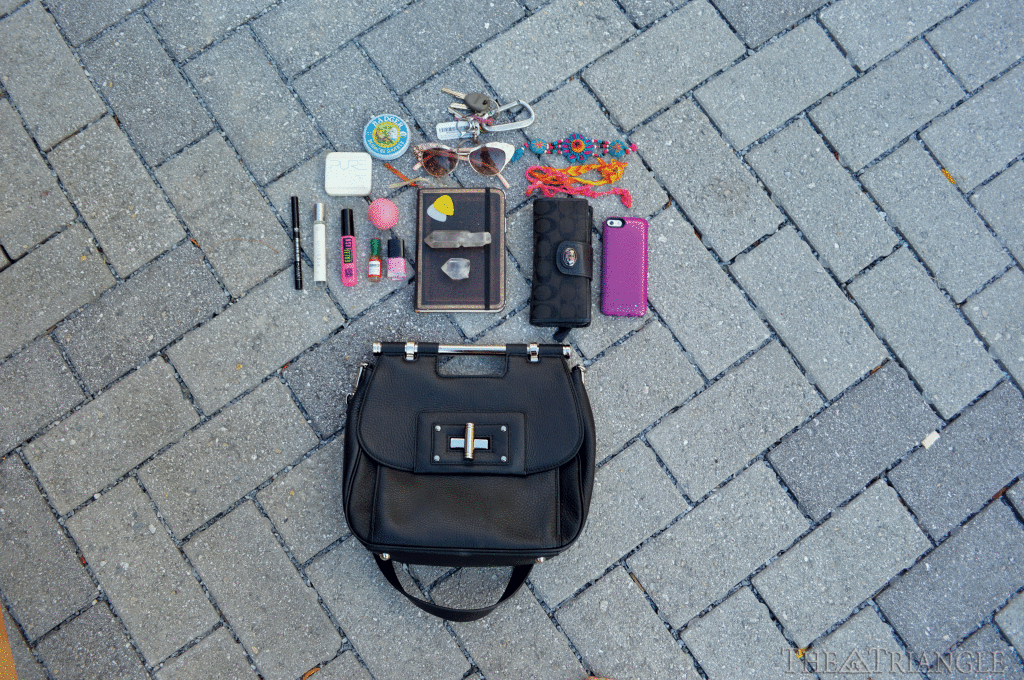 Madi Dare, a junior in design and merchandising, never leaves her apartment without these must-haves that get her through the day!
Banana Republic bag: "I like it because it was my grandma's but it was brand new. It's functional, diverse, and stylish."
A planner that keeps track of her life, dates, activities and events. She also takes notes for class in it so she can keep all the information in one place while staying on top of assignments.
Two crystals: one clear and the other a smoky quartz. One is from the crystal store on South Street called Garland of Letters, and the other was a gift. They are used for good, positive energy and balance. Crystal energy is known as a vibrating energy. It's almost like they are alive so it actually interacts with human bodies in a way.
Two friendship bracelets, handmade: "I carry them as emergency gifts. In case I need to give someone something."
Pretty bracelet: "It was bought in Chinatown by my boyfriend. I carry it around because the flower and beads on it make me happy."
iPhone with charger case because her phone always dies and she needs to charge it when she's out of the house.
Keys for her Jeep and apartment.
Coach black wallet: "It's actually broken but I keep it because it's the best one I have. It's very functional and holds all my cards, money and receipts."
Badger headache soother that she puts it on her temples to help when she has headaches.
Eos strawberry lip gloss: "I love the taste and texture of the gloss and that it adds a little shine."
Great Lash mascara in black by Maybelline: "It makes my lashes very large and I have been using it since I was 16 — it's that good!"
NYC liquid eyeliner in black: Although it is in her bag, Madi advises against using this eyeliner. She bought it because it was cheap at CVS, but it smears all around her eyes.
Aerie Daydream perfume is a small, portable roller and it smells like pastries and flowers. She loves the sweet scent of and recommends it.