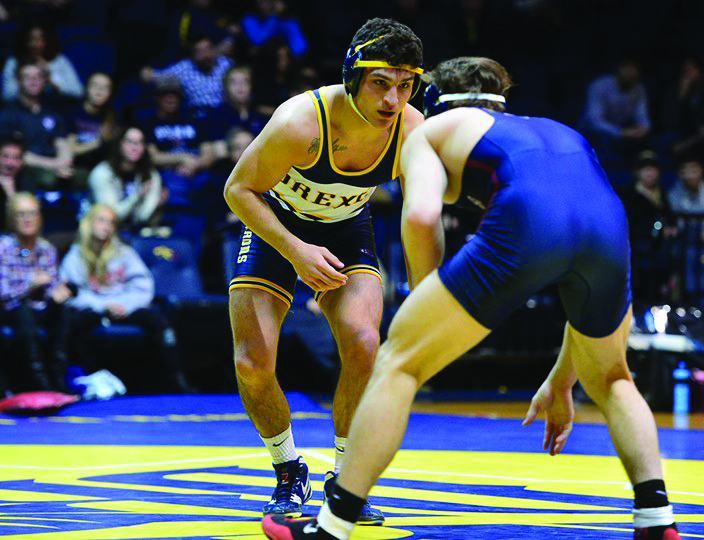 The Drexel University wrestling team spent Feb. 4 in a double header against Franklin and Marshall College and Hofstra University.
The day began in Lancaster, Pennsylvania with the Dragons matched up against Franklin and Marshall, and it ended at the Daskalakis Athletic Center with Drexel facing Hofstra. The Dragons have been handling their business lately, but the Saturday back-to-back was going to be tough. Drexel came into the weekend on a two match win streak and the expectation was for them to continue dominating, regardless of travel.
The Franklin and Marshall match opened with Drexel junior Zack Fuentes against Edgar Garcia in the 125-pound division. Fuentes put the moves on Garcia, winning by a majority decision of 8-0.
In the 133-pound division, No. 13 senior Kevin Devoy Jr. beat his opponent with a win-by-fall 3:50 into the match. Senior David Pearce followed these victories with a dominating win of his own. In the 141-pound weight class Pearce beat his opponent on an 11-3 majority decision.
No. 17 senior Matthew Cimato followed in the winning parade by defeating his opponent on a 15-3 majority decision. Sophomore Willie Davis was not able to follow up with a win of his own, but he wrestled hard in the 157-pound class. Davis lost a tough 5-3 decision.
Junior Austin Rose and freshman Ebed Jarrell each won their matches in the 165 and 174-pound classes respectively. Rose defeated Rob King with a win-by-fall just 2:38 into the match, and Jarrell beat James Stillerman on a 14-4 majority decision.
In the 184-pound weight class junior Alex DeCiantis was defeated in a tough match. Anthony Mancini defeated DeCiantis by a 4-0 decision.
Both junior Joshua Murphy and No. 19 junior Joey Goodhart won their matches off of forfeits in the 197 and 285-pound weight classes respectively.
The Dragons beat Franklin and Marshall with a team score of 40-6. After their win, the team traveled from Lancaster back to Philadelphia where they took on Hofstra in the second match of the team's doubleheader.
The match started off with a forfeit and a win for Pearce in the 141-pound division. In the 149-pound weight class No. 17 Matthew Cimato beat Ryan Burkert on a 4-1 decision.
Davis followed up Cimato's win with a win of his own in the 157-pound division. Davis was able to bring his match to overtime where he scored on a takedown to win the match on a 17-15 decision.
Rose recorded a win-by-fall against his opponent in the 165-pound match, and Jarrell won a close 8-7 decision in the 174-pound class. In the 184-pound division DeCiantis had a nice match, beating his opponent by a majority 14-5 decision.
In the 197-pound weight class Murphy lost a tough tiebreaker match against former teammate Nezar Haddad, 2-1. In the 285-pound weight class No. 15 Joey Goodhart won his match with a 4-1 decision.
The last two matches were in the lightweight category, where Fuentes beat Jacob Martin in the 125-pound division by way of a win-by-fall. Devoy Jr. followed that match with a win in the 133-pound weight division by way of a 7-1 decision victory.
The Dragons won this match with a total team score of 36-2, which increased the team's win streak to four straight matches. Even with the traveling between the matches that day, Drexel wrestled hard and without distraction.
Up Next,  Drexel will take on Rider University in Lawrenceville, New Jersey. This is the only match that the Dragons have for the coming weekend so they will be well rested and ready to increase their win streak. The match will take place Feb. 11.