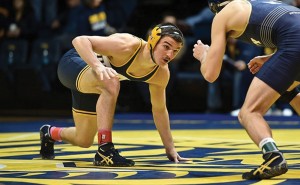 The Drexel University wrestling team competed in three duals on Nov. 8  at the Mountaineer Duals hosted by West Virginia University. The Dragons finished the day with one dual win and two dual losses.
In the first dual of the day, Drexel faced off against West Virginia. The Dragons had a rough start, going down by six. However, Kevin Devoy Jr. got Drexel on the board winning 8-3 over Tony DeAngelo. Matthew Cimato followed with a major decision that put the Dragons up 7-6. Although Drexel had the advantage halfway through the matches, the Mountaineers came back to defeat the Dragons 26-7.
Drexel faced off against Arizona State University in their second dual of the day. The Sun Devils took an early lead, gaining a 10-0 advantage. Cimato would once again score for the dragons. Cimato earned a victory in a 3-2 decision over Matt Kraus from Arizona State. About halfway through the dual, Nick Elmer would get a win for Drexel, defeating Zachary Smith 6-3. Toward the end of the dual, Dragon Stephen Loiseau had an impressive performance. Loiseau almost upset the No. 3-ranked Blake Stauffer, but was defeated by a close decision of 4-3. Arizona would earn wins in the remaining matches to win the dual 27-6.
The Dragons earned their first win of the season with a 21-15 victory over Campbell University. Campbell came out early with a 9-0 advantage. However, freshman Anthony Canfora got Drexel on the board with his first career win in a 9-8 decision over the Camels' Zack Barker. Cimato and Richard Viruet would follow with wins to tie the dual at 9-9. Cimato defeated Quentin Perez 8-5; while Viruet defeated Daniel Richardson in a 7-1 decision. Elmer, Loiseau and Joshua Murphy earned victories for three major decisions in a row to secure the Dragons' first win.
Drexel returns to action Nov. 13 when they travel to the West Coast to take on California Polytechnic State Institute. The Dragons will then compete Nov. 15 in the Road Runner Open in Fresno, California.