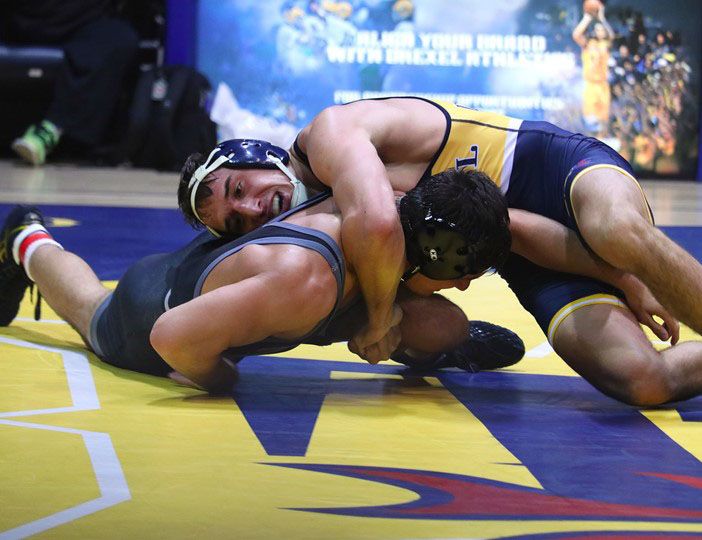 In the fifth week of competition, the Drexel University men's wrestling team started off the week on a sad note on a important day: Homecoming, Jan. 27. Drexel lost a match against a key Eastern Intercollegiate Wrestling Association team, Binghamton University, 21-12.
Redshirt senior Zack Fuentes started off the match with a 5-3 decision over Joe Nelson at 125 pounds. However, Binghamton came back and won decisions at 133, 141, 149 pounds with many of their wins coming from Drexel's mistakes. Graduate Garett Hammond made up for those mistakes and came back with a 11-3 major decision over Tristan Rifanburg at 157 pounds.
However, Binghamton also bounced back to win at 165, 174 and 184 pounds. No. 29 Vincent DePrez edged redshirt sophomore Ebed Jarrell with a 7-5 decision and Anthony Lombardo defeated redshirt senior Austin Rose 6-1. After redshirt senior Alex DeCiantis lost to Steve Schneider at 184 pounds 4-0, the Dragons resurged to get close.
Redshirt junior Stephen Loiseau got the Dragons near to a win. After Binghamton got to an 18-7 lead, Loiseau gave the team hope and reached a 15-0 technical fall win over Alex Melikian. However, Binghamton's Sean Dee outlasted freshman Vincenzo Pelusi to win a tiebreaker, 5-4.
Drexel then moved on to face Hofstra University Feb. 3, where they breezed past and won 31-12. Drexel won in the first six weight classes that played, giving them a 24-0 lead.
Redshirt senior Tanner Shoap started off with a 7-6 decision over Jacob Martin at 125-pounds. Freshman Austin DeSanto returned to the lineup in big fashion with a technical fall win over Garrett Lambert. Redshirt freshman Julian Flores earned the Dragon's 39th win by fall with a pin on Vinny Vespa. After a loss at 174-pounds, the Dragons came back with a major decision win by DeCiantis over Anthony Olivieri at 184-pounds.
Drexel also had a matchup against Rider University Feb. 4, where the Dragons pulled off a comeback win over the No. 21 ranked team 18-14.
Rider University got off to a 14-6 lead with a technical fall victory at 165-pounds. DeSanto got the Dragons back on track with 10-6 decision over Anthony Cefolo.
Hammond had a 7-3 decision over B.J. Clagon to cut the lead, but the technical fall at 165 kept Rider in the lead.
The Dragons came back with decisions at 174, 184 and 197-pounds, including a very close 5-4 win by Rose over Dean Sherry and a shutout win by Loiseau over Ethan Laird, 7-0. This set up the heavyweight match, where freshman Sean O'Malley won in dramatic fashion. He got up from a 1-1 tie to win the match 3-2 to seal the Dragons' win.
The wrestling team will face Cornell University at home for Spirit Night at the Daskalakis Athletic Center Feb. 9 at 7 p.m.