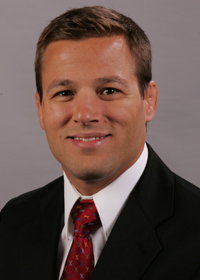 After 35 years of Jack Childs leading the Drexel wrestling program, Drexel Athletic Director Eric Zillmer announced the hiring of Matt Azevedo as the team's new head coach. Azevedo will join Drexel after most recently holding assistant coaching positions at Cornell University and California Polytechnic State University. He will be the program's eighth coach since its inception in 1946.
Senior Associate Athletic Director Nick Gannon described Azevedo as a "rising star" in a statement made announcing the hire.
"With [Azevedo's] energy, reputation and character, he will continue to build on the history of Drexel's wrestling program," Gannon said.  "Our staff is excited to welcome Matt and his wife, Brooke, into the Drexel Athletics' family."
As an assistant at Cornell, Azevedo assisted in leading the team to earn nine All-America honors, nine Eastern Intercollegiate Wrestling Association champions and seven Academic All-Americans. He also guided the Big Red to back-to-back second-place finishes at the NCAA championships.
Robert Koll, the head wrestling coach at Cornell during Azevedo's tenure, spoke about his assistant's role in Cornell's success.
"Matt has been a phenomenal asset to our program and he will be dearly missed," Koll said. "He will be a tenacious recruiter, intelligent coach and an exceptional ambassador for Drexel University. I can say, with no hesitation, that he is one of the finest coaches that I have ever had at Cornell University."
"Drexel's national appeal and recruiting opportunities made the job so appealing," Azevedo said. "I realized how much support the school has for the wrestling program when I visited. Everyone in the athletic department believes Drexel can be a top program in the country, and that excites me."
Azevedo also talked about how the tri-state area (Pennsylvania, New Jersey and Delaware) has become a hot bed for wrestling talent. He feels there are tremendous recruiting opportunities to help draw students to Philadelphia because of Drexel's academic reputation.
Azevedo wrestled collegiately at Arizona State University and Iowa State University, advancing to the NCAA tournament in three of his four years of eligibility. After his collegiate years, he continued his wrestling career by becoming a seven-time U.S. National place winner and winning the 2008 U.S. Open National Championship. While still wrestling competitively, Azevedo was offered an assistant coaching position at Cal Poly. During his tenure there, he helped coach seven All-Americans and eight Pac-10 champions.
Even though Azevedo has extensive experience within the sport, does recognize the pressure that comes with stepping in for a wrestling legend like Jack Childs.
"I do feel a little extra pressure," Azevedo said with a chuckle. "I can see the admiration and deep respect the athletic department at Drexel has for Childs. I was able to speak to him throughout the hiring process and he is just a genuinely nice person."
The team had a disappointing season in 2010-11, recording a 6-17 record. None of the team members were able to win a Colonial Athletic Association Championship, but Joe Booth received an at-large bid to qualify for the NCAA Tournament. The talent already on the team is something Azevedo is excited to help develop in his first year.
"These guys are young and eager," Azevedo said. "Through my work ethic, I plan on building relationships with these guys so they trust in our staff to take them to the next level."