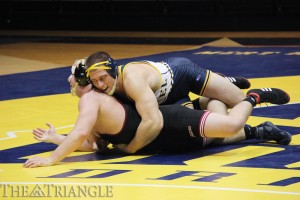 The Drexel wrestling team continued its late season push Feb. 7 and 8, extending its winning streak to three with victories over Rider University and Franklin & Marshall College. The wins improved the Dragons to 7-13 on the season and 1-4 in the Eastern Intercollegiate Wrestling Association.
It all began Feb. 7 in front of a raucous crowd at the Daskalakis Athletic Center against Rider for the Dragons' annual Spirit Night. The Broncs are certainly not an easy win scheduled just to put on a show for the packed DAC; they are a national top-30 team. Drexel, though, used every bit of the crowd's energy and unconditional support to work its way to the narrow 20-19 victory.
Freshman Kevin Devoy opened up the scoring on the Dragons' side at 133 pounds in the closest match of the night. Devoy's endurance was on full display as he outlasted his opponent, Chuck Zeisloft, in five overtimes to take the 7-6 decision.
With the DAC already buzzing, the crowd became electric when freshman David Pearce pulled off an unexpected come-from-behind pin of his opponent Paul Kirchner. The six-point pin threw the DAC into a frenzy as Pearce, adrenaline pumping full blast, sprang to his feet immediately after the referee's hand hit the mat to fire up the crowd even more.
"We normally don't have crowds like this, so it was really fun," Pearce said after his victory. "After I stood up and saw everyone was jumping and cheering, it felt so good. To know I did it for the team and we hadn't beat Rider in a while, it was awesome."
Pearce's head coach agreed with his assessment.
"At 141 pounds, Pearce getting that win when he's losing; it's huge," head coach Matt Azevedo said after the match.
After dropping a decision at 149 pounds, the Dragons recorded an important decision at 157 pounds as one of their senior leaders, Austin Sommer, took care of business and continued to build on his solid year.
The 165-pound match could be considered the turning point of the meet; redshirt freshman Jason Fugiel earned three points for Drexel, earning the improbable decision over Rider's Ramon Santiago.
"At 165 [pounds] on paper," Azevedo said, "there's no way we should win that match. No way."
Things were going Drexel's way; however, after dropping a major decision at 174 pounds and a technical fall at 184 pounds, the Dragons needed a big night from their star wrestler, Brandon Palik.
They got exactly what they needed. Palik went out and dominated Rider's Jeff McElwee, winning by technical fall to give Drexel a 20-16 lead heading into the final match of the night.
Drexel's fate was in redshirt freshman Joe Giorgio's hands. If Giorgio lost by anything other than a regular decision, the match would end tied or with a Drexel loss. But Giorgio took care of business for his team, losing by a regular decision, and secured the 20-19 win for the Dragons.
"He's been in wrestling long enough, he knows what's going on," Azevedo said. "He knew he had to go out, be smart and wrestle hard; don't make any mistakes. He even had a chance to win that match. Ultimately he knew that he just needed to not get pinned or [lose by technical fall]. He wrestled smart and he wrestled tough, and he ends up being the hero."
Azevedo said he knew that the fans were the difference in the match. His guys would have been wrestling hard no matter what, but with a packed house and high energy, they went out with a little bit extra. That little bit was the deciding factor.
"It's huge. It makes a difference," Azevedo said after he thanked the crowd as they were filing out. "If we don't have that crowd, we don't win that dual meet. That's how I really feel about it. I felt the same way last year when we were wrestling Boston [University]. If we don't have that crowd, we don't win. The kids feed off of it."
Riding the wave of momentum from the big win over Rider, the Dragons downed Franklin & Marshall by a dominant score of 25-11. Drexel only dropped matches in three weight classes to close out the big win, the team's third straight.
The Dragons are putting everything together at the right time, as the conference tournament draws nearer each match.
"I think that we're being consistent," Azevedo said after the Feb. 8 match. "When you're consistent, good things will happen. I think that's what we're seeing. That was our struggle all season: one guy shows up but the other guy doesn't. We had some tight duals, but without everyone at the same spot, we weren't getting those close wins where the last three duals we have been."
Drexel now has a week off before they return to the mat at Rutgers University Feb. 21 and close out the regular season on Senior Night at home against the University of Pennsylvania Feb. 22.