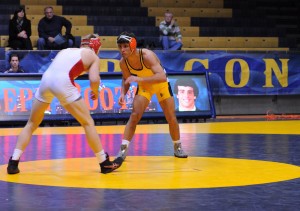 The suspense is over for Drexel University first-year wrestling coach Matt Acevedo. The schedule has been finalized and he can now prepare his team for the tough season ahead.
"I can't tell you how excited I am for the season to start," Acevedo, who is taking over for legendary coach Jack Childs, said. "Our pre-season training will start Sept. 19 and let me tell you, that date couldn't come any sooner. My staff and I have been planning our training cycles and are looking forward to the hard work ahead."
The schedule boasts 16 tough matches, not including the Colonial Athletic Association tournament and the National Collegiate Athletic Association tournament.
"We have a very balanced schedule," Acevedo said. "Our guys will definitely be tested."
The Dragons will have a full slate of CAA foes to compete against, including Hofstra University in New York Jan. 8 and George Mason University match at home on a date that is to be announced. They will also welcome national power houses University of Pittsburgh to the DAC Nov. 13, and the University of Virginia Dec. 18.
"I'm excited to wrestle our conference rivals, but those two home dates stand out," Acevedo said. "These matches will give us a chance to see where we stand against two top 25 teams."
As an up-and-coming force in collegiate wrestling, Drexel will also be participating in several invitational tournaments this season. The team will return to the Cornell Body Bar in Ithaca, N.Y., Nov. 19, head to Sin City for the Las Vegas Invite Dec. 2 and the Lock Haven Invitational Dec. 29.
"Getting the opportunity to wrestle at two of the toughest tournaments in the country in the Cornell Invitational and the Cliff Keen/Las Vegas Invitational is great," Acevedo said.
The Dragons will also take part in the Campbell Duals in North Carolina Dec. 12 and the Virginia Duals in Virginia Beach Jan. 13; they will also represent Drexel at the CAA duals held in Fairfax, Va., Jan. 21.
"Competing against the best competition in the nation is important for the Drexel wrestling team, as it gives us a better chance to qualify to the NCAA Tournament and prepares us to perform at the highest level," Acevedo said.
And perform at a high level is exactly what Drexel will need to do, staring Nov. 11 at home with Franklin and Marshall University. The rest of the schedule for the Dragons contains home matches against Army Jan. 24 and Rider University Feb. 7, in addition to dates with Boston University, Brown University and Rutgers University all on the road.
The CAA tournament is held March 3 in Binghamton, N.Y., and the NCAA Tournament will be held in St. Louis, Mo., this season, March 15-17.
Acevedo, a former standout wrestler at Arizona State University and Iowa State University and an accomplished coach at Cornell University and Cal Poly, knows what it takes to win big, and his goals for the season are clear and simple.
"My goals for this season are to win the CAA Conference Tournament and have an All-American at the NCAA Tournament," Acevedo said.
If those goals can be achieved, it will certainly be a remarkable first season on the sidelines for Drexel's new coach.