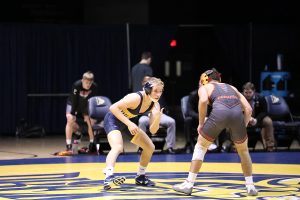 In the aftermath of a promising start to the season at the Daskalakis Athletic Center, the Drexel University men's wrestling team headed to New York Nov. 10, to face off against three schools at the 2018 Journeymen MyHouse Northeast Duals. The University of Nebraska and Purdue University are recognized nationally as collegiate wrestling powerhouses.
Despite the pedigree of their opponents, Drexel came into their matches believing they could pull off some shocking results. While their courage was admirable, the Dragons ultimately fell short of their lofty expectations as they lost to both Nebraska and Purdue. Drexel walked away with a victory in their final matchup of the day against The Military College of South Carolina, The Citadel, finishing the tourney with a 1-2 record.
Drexel lost their matchups in the lower weight classes against Nebraska, but the final scores accurately reflected just how close it was. Freshman Antonio Mininno put up a good fight in the 125 weight class, but fell short by one point to Nebraska veteran Zeke Moisey, with the  scoreboard reading 8-7. Soon after, freshman Ty Smith took a back and forth thriller at 133 pounds against Christian Miller with a final score of 16-10, providing Drexel's lightweights with their sole win. Junior Nick Widmann lost at 141 pounds to Nebraska's Chad Red, with another close result of 2-1.
As soon as the middle weight matchups began, Nebraska began to assert their dominance. Sophomore Trevor Elfvin was soundly beaten 14-2 by junior Collin Purinton at 149 pounds. Elfvin's fellow sophomore Evan Barczak also took a big loss at 157 pounds, outscored 12-2 by senior Tyler Berger. Drexel briefly halted the advance of Nebraska with junior Ebed Jarrell's surprise 6-3 win over Isaiah White, one of the nation's top performers at the 165-pound weight class, but the momentum was quickly back on Nebraska's side after redshirt freshman David Hoffman had a technical fall loss at 174 pounds to another redshirt, Mikey Labriola.
The story was the same for Drexel's matchups in the heavier weights. At 184 pounds, junior Owen Brooks suffered a loss by pin to sophomore Taylor Venz. Senior Stephen Loiseau managed to round up some spare points against Nebraska at 197 in his 10-6 decision win over sophomore Eric Schultz, but Drexel closed out the day against the Huskers with a loss at 285 as Drexel redshirt senior Joey Goodhart was decisioned 5-2 by junior Patrick Grayson.
The Dragons took their first lost admirably, as they went into competition against Purdue with a steely resolve. While they couldn't find the win, outpointed again 25-14, each category could have gone either way. Drexel's lighter weights fell to Purdue early on. Freshman Dante Mininno, brother of Antonio, endured a technical fall loss at 125 pounds to redshirt freshman Bjorn Schroeder, while sophomores Chandler Olson and Julian Flores took losses at 133 and 141 pounds, respectively. Olson was on the end of several ankle picks by senior Ben Thornton 10-0, and Flores was outgrappled by redshirt junior Nate Limmex, who won 4-0.
Barczak secured redemption for himself against Purdue, defeating redshirt junior Austin Nash 8-2 at 157. The same could not be said for Elfvin, as he fell again at 149 pounds, this time from a pin by redshirt freshman Parker Fillius. Jarrell continued his win streak at 165, taking out redshirt junior Cole Wysocki by a 4-1 decision. Redshirt freshman Bryan McLaughlin dropped a razor thin 2-1 decision to redshirt junior Dylan Lydy at 174 pounds.
While they weren't enough to rally back against Purdue, the Drexel heavyweights brought the best they could against the Boilermakers. Though Brooks saw another loss at 184 pounds, a 15-2 beatdown by sophomore Max Lyon. Loiseau and Goodhart scored impressive victories for the Dragons. Loiseau notched his second win of the day with a technical fall over redshirt freshman David Eli at 197 pounds, followed up by Goodhart's grueling marathon of a match at 285 pounds that saw him earn a 3-1 decision over redshirt senior Jacob Aven in overtime.
Going up against The Citadel for their finale, the blood of Drexel's Dragons was boiling, and they knew they had to put their stamp on the competition even though they'd finish with a losing record. It was hardly surprising then, but Drexel didn't allow The Citadel a single match, sweeping the bulldogs 41-0.
Two freshmen collided at 125 pounds, as Antonio Mininno broke even in the category on the day with a 3-2 win over Anthony New. Smith won again at 133 pounds, dominating senior Paddy Kearney en route to a 13-5 decision. Redemption also smiled at Widmann at 141 pounds, as he outlasted sophomore Ethan Phillips 11-9 to get the win.
Elfvin was granted consolation for his previous decision losses at 149 pounds by pinning freshman Chon Porter. Barczak improved to a winning record on his third match, which saw him defeat Ryan Burris at 157 pounds, 8-2. Jarrell went undefeated at 165, making short work of freshman Dazjon Casto with a pin victory. McLaughlin, unhappily missing out on a win against Purdue by a point, decided he didn't want the 174-pound match going to the scoreboard again, quickly pinning sophomore Michael Lopouchanski to even out his record.
Brooks, despite not managing to improve to a 0.500 percentage, ended his day with a win at 184 pounds, battling out a 7-6 decision against junior Martin Duane. Loiseau showed off his veteran savvy at 197 pounds with a 2-0 win over Sawyer Root, another senior, going unchallenged throughout the meet. The last match of the day for Drexel was a good one for 285-pound Joey Goodhart, who fended off junior Michael McAleavey, and left the mat with an 8-0 win.
Before traveling to the Big Apple, Drexel comfortably held an undefeated 2-0 record. After just one weekend, they are 3-2 after facing some of the nation's top squads. In wrestling it is said that when sharing the mat with a greatly talented wrestler, their skill rubs off on whoever they face. The Drexel wrestlers will hope to use what they have learned when competing against some of the greats in their next match. Drexel will return Nov. 18 to compete in the 23rd annual Keystone Classic at the University of Pennsylvania, who will host some of the most talented teams in the nation.