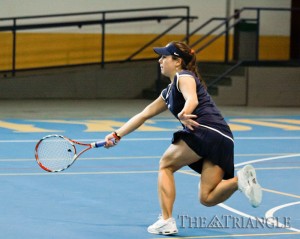 Coming off a monthlong break of virtually no competitive action, the Drexel University women's tennis team's first competition was against the Ivy League perennial power the University of Pennsylvania. The Dragons opened the team portion of their schedule with a loss against University City rival Penn Jan. 18 inside the Levy Tennis Pavilion. The Quakers (1-0) took all three of the doubles matches and then carried that momentum into singles play to hand Drexel (2-1) its first loss of the season. This marks the second year in a row that Penn has opened up its season with a 7-0 win at home against Drexel.
The top Drexel doubles team of senior Sonja Stosic and sophomore Zeynep Mafa led the top women's pairing of Penn with a score of 7-2. However, despite having five match points, Stosic and Mafa were unable to claim that decisive eight game. They eventually fell to Penn with a final score of 8-7.
"Unfortunately we couldn't convert five match points, but I was pleased with the energy and effort on the court," assistant tennis coach Filip Kricka said.
The singles matches all had the same outcome with the University of Pennsylvania women's team prevailing in all six matches.
The first two matches, however, were fairly competitive. Penn freshman Sol Eskenazi defeated Stosic 6-2, 6-4. Eskenazi is the 17th-ranked female player in the Northeast region.
The following match between Mafa and Penn sophomore Stephanie Do had a thrilling conclusion. Do took the first set 6-1, but once Mafa found her consistency, the match became very close in the second set. Unfortunately Mafa fell to Do 7-5 in the second set. The rest of the Drexel women's team, while competitive, all lost their matches. Sophomore Marcela Rosales fell to freshman Alex Ion 7-5, 6-0. Senior Elize Leizerovich fell to fellow senior Daniela DePaoli 6-1, 6-0. Freshman Nicole Pivonka lost her match to freshman Srinidhi Raghavan 6-1, 6-2. The final match saw sophomore Alex Bell losing her match 6-3, 6-1 to junior Jules Rodin.
Kricka was quick to point out that although the team lost, he appreciated the effort from only a week's worth of practices.
"Penn is always good. If we can stand toe-to-toe with them, then we should fare well headed into our conference games," Kricka said when asked about how this match shows the team's preparation for its upcoming conference matches.
The Drexel women will travel to Virginia Jan. 20-21 to compete in the Virginia Commonwealth tournament, where top teams such as Cornell University and conference foe Virginia Commonwealth University will also be competing. After competing in Virginia, the Dragons will return to the Armory at 1 p.m. Jan. 22 to host St. Francis University (Pa.).