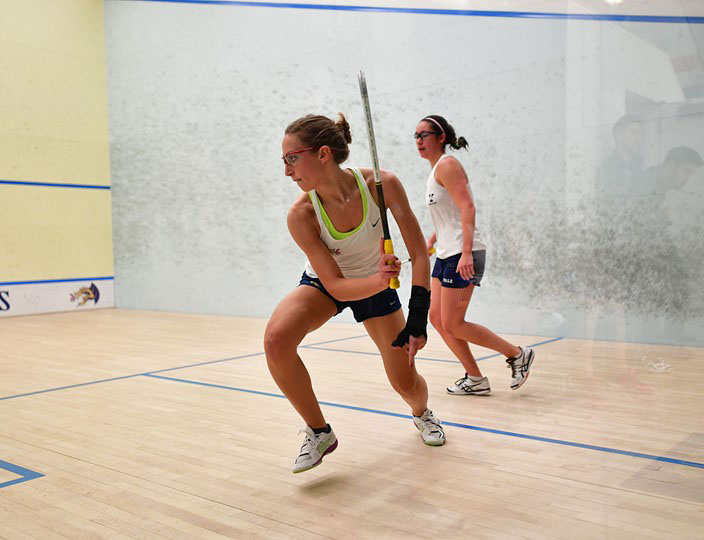 The Drexel University men's and women's squash teams faced a tough three-game streak this weekend at the Kline & Specter Center as they took on their last in-season opponents before the national finals. Both teams faced George Washington University, St. Lawrence University and finally Middlebury College in the home straight of their matches.
First up, the women secured the win over GW Feb. 9, 6-3. Both Anna Hughes and Apoorva Addepalli managed to make comebacks from two games to zero down in their respective matches, to win in five.
The top of the line-up stayed strong to power the Dragons to victory. Ryan Morgan earned her 46th career victory to tie her with Mary Fung-a-Fat for the most in Drexel women's squash history. At No. 3 and 4, impressive efforts from freshmen Hannah Blatt and Ona Prokes were a decisive factor in the win. Finally at No. 8, Emma MacGillivray won in four to secure the first team win of the weekend.
The No. 12 ranked Drexel University men's squash team didn't share the same success against George Washington, as they fell in a tightly fought match, 6-3. Drexel took wins at the top two spots and the bottom spot of the ladder, but could not steal two in the middle to come away with the win.
At No. 1, Bransten Ming outlasted his opponent in five games, followed by No. 2 Lucas Rousselet coming back after dropping the first game, to win in four. At No. 9, Mostafa Abouel Makarim continued his solid season of play with a four game win against Juan Laguna.
Despite hard work from Atticus Kelly and Dylan Kachur in the middle of the ladder, the Dragons gave up the match.
The Drexel University squash program then moved on to host St. Lawrence Feb. 10 at home. The day was headlined by senior Ryan Morgan becoming the all-time winningest Drexel women's squash player in the 9-0 sweep.
The Dragons made light work of their opposition across the line-up, with not a single player losing a game. An impressive performance on the day came for Prokes, who won her match 11-0,11-0,11-0 without dropping even a point. Morgan cruised past Losangela Batista at No. 3, 11-3, 11-4, 11-1, to move past Mary Fung-a-Fat for most wins in Drexel women's squash history. The women's team improved to 7-8 on the season with the victory.
The Drexel men's squash team played a strong team match Feb. 10 but could not overcome a stronger No. 4 St. Lawrence, as they fell 9-0.
Three Dragons played to five-game matches but ultimately could not overcome their Saints opponent. Noel Solomon took the first two games from Belar Newar at No. 5, but was overpowered towards the end. At No. 8 and No. 9, Makarim and Royston Raymond traded games back and forth, but were bested in five by the St. Lawrence boys.
Senior Day, Feb. 11, marked the end of an era for several Drexel squash seniors. The women took their second 9-0 sweep of the weekend, this time against Middlebury, which led them to close their season record at 8-8 overall. Before the match, the team honored the collegiate careers of Ryan Morgan and Hayley Hughes.
At No. 2, Hayley Hughes came back from dropping the first game to beat Lucy Bostwick, 8-11, 11-6, 11-2, 11-5. Morgan then extended her program wins record set Saturday with another victory over Alexa Comei, 11-0, 11-3, 11-6. The Dragons next gear up for the B Division Kurtz Cup beginning Feb. 16 in Cambridge, Massachusetts.
The men's team managed to secure a 7-2 win over Senior Day opponents, No. 21 Middlebury. This win meant that the men's team finished their regular season with a 7-10 record. Before the match, Drexel honored its four men's seniors — Cillian Dunne, Nat Fry, Atticus Kelly and Noel Solomon.
The Dragons came away with victories at key positions against the Panthers despite having to deal with a retirement at No. 2 and a tight loss at No. 3. Ming took an easy victory at No. 1 over Will Cembalest, and Kachur came up with a four-game win over Henry Pearson, 12-10, 11-9, 5-11, 11-9.
Fry took his Senior Day match over Wiatt Hinton, 11-3, 12-10, 8-11, 11-7. Also on his last home game, Solomon came back from losing the first two games to beat John Epley, 4-11, 8-11, 11-6, 11-4, 11-6.
Dunne held off Wolpow in five games 11-8, 7-11, 6-11, 11-3, 11-6. Raymond closed out the lineup with a five-game victory over Ryan Swope, 9-11, 11-6, 11-5, 11-13, 11-5.
The Dragons head to Men's Team National Championships in Hartford, Connecticut beginning Feb. 23.