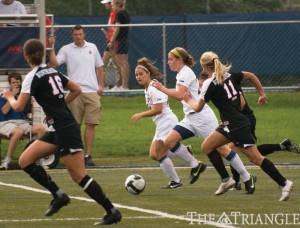 Another exciting season awaits the Drexel women's soccer team. The Dragons will start their campaign Aug. 17 with a match in Farmville, Va., against Longwood University. The next two fixtures will also be away against Liberty University and Villanova University, respectively. On Aug. 27 the team will have its home opener at Vidas Field against the University of Maryland, Baltimore County.
Shortly after that, the team will travel to Hawaii, where its next two games will take place, before coming back to face Drexel's not-so-lovely neighbors, the University of Pennsylvania . Sept. 14. The team will then face another inter-city rival, Temple University.
Two games at Vidas Field, against George Mason University and Towson University, will be followed by another three road games against the University of North Carolina-Wilmington, Georgia State University and Northeastern University.
The last five games will be against Hofstra University, Old Dominion University, The College of William & Mary, James Madison University and the University of Delaware, which will be the regular-season finale Oct. 24 at Vidas Field on 43rd Street and Powelton Avenue.
The Dragons have a tough schedule ahead, but every team has a chance to win when Game 1 comes around.