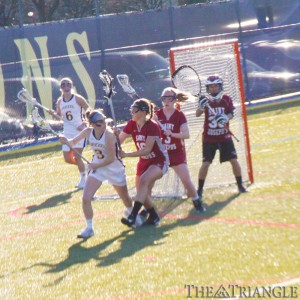 After wins against La Salle University and Longwood University, the Drexel University women's lacrosse team has now won four games in a row.
Against La Salle March 10, the Dragons went down 3-0 early. However, sophomore Amanda Norcini put Drexel on the scoreboard by scoring a free-position goal. Alissa Watts took advantage of another free-position opportunity and cut La Salle's lead to 3-2.
The Explorers scored two consecutive goals, extending their lead to 5-2. In the final six minutes of the first half, however, Drexel tied the game thanks to back-to-back goals by junior Alyse Maiden and the tying goal by junior Kelli Joran. Drexel took the early advantage in the second half when Maiden added another goal and Jaclyn Klunder scored her first of the match.
La Salle battled back to tie the score at 7-7. However, Drexel pulled away toward the end of the game thanks to two goals by senior Charlotte Wood and Norcini's second of the game.
The final score was 10-7. In the game, sophomore goalie Amanda Santandrea had a season-high 12 saves. This capped a week in which she received her first Colonial Athletic Association Player of the Week award.
"Getting that award is a great confidence booster for her," head coach Anna Marie Vesco said.
While the victory against La Salle was Drexel's third victory in a row, Vesco was quick to point out that her team did not play a "full 60 minutes."
"There are still some things we have to work on, but I would say only two out of our seven games we truly played a full game," Vesco said.
The Dragons wanted to prove their coach wrong against Longwood March 14. They put on an impressive display on both the offensive and defensive ends. The Dragons took an early 5-0 lead in the first half. Wood scored twice, while Klunder, Maiden and Joran each added one goal.
The Lancers fought back and scored four unanswered goals to close the deficit. Norcini put an end to the Longwood rally by scoring her first of two goals in the match. The Dragons led 7-5 at the half.
In the second half, the Dragons scored 11 to hold off Longwood. It was an offensive display that had to make Vesco proud of her team's performance. Wood, the team's captain, finished the day with five goals and three assists in the 18-8 victory.
Norcini continued her hot start by adding two goals and an assist. Norcini, only a sophomore, has had a very impressive start to the season, and Vesco was quick to praise her young midfielder.
"She not only scores but she plays defense. … She is just everywhere," Vesco said.
Maiden and Klunder each added a pair of goals in the match. Santandrea earned her sixth victory of the season thanks to six saves.
"Each game we find something to work on. We just want to be on the top of our game when it comes to conference time," senior midfielder Lindsay Kovar said.
At 1 p.m. March 17, the Dragons will face a tough University of Maryland-Baltimore County team at home. Vesco sees this as a good opportunity to gauge her team and what they are capable of this coming season.