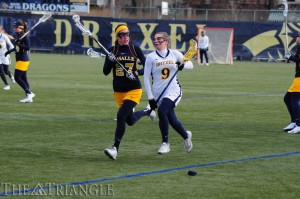 Last weekend started off with the Drexel women's lacrosse team extending its win streak to four games, only to see it snap there a few days later. The team split its Colonial Athletic Association games against George Mason University and James Madison University April 12 and 14.
The Dragons used a strong second half, including a run of five goals, to knock off George Mason 10-5. Alyse Maiden scored three goals, all in the final 15 minutes of the game, plus an assist; Kelli Joran had a hat trick of her own.
The game was tied at three heading into halftime after GMU scored the final two goals before the break. The Patriots had controlled many key areas of the game, such as recording twice as many ground balls as the Dragons and winning six of seven draws through the game's first 30 minutes. Head coach Anna Marie Vesco rallied her players, challenging them to show they wanted the win more than their conference rival.
"I rattled off some stats, especially the hustle stats, so we just asked them, 'Who wants it more?'" she said. "It's conference time, so we stepped it up in the second half."
Her players listened and responded.
"We went into the locker room, and no one put their heads down," sophomore Alissa Watts said. "Coach just said to come out and win all the draws and win all the ground balls."
Goalkeeper Teresha Bradley made eight saves in net for Drexel. The sophomore picked up her fourth straight victory, manning the net in each of the Dragons' wins during the streak.
Drexel was unable to match its season-high winning streak of five games, falling well short in a loss to James Madison. The Dragons lost 16-9 on Senior Day, struggling to limit the Dukes and their many scoring runs.
Bradley and the Dragons found themselves in an early hole after allowing JMU to score the game's first four goals. Drexel would make it 7-4 at halftime, but the Dukes jumped out of the gate early in the second, just as they did in the first half.
In a 6-0 run, Ali Curwin scored two of her four goals on the day to push JMU ahead to a 13-4 lead, and Drexel could not get within six goals the rest of the game. Bradley was pulled after allowing 12 goals, but the damage had already been done.
It was a defensive breakdown that Vesco did not see coming nor could have predicted.
"Our defense has been our strength all year, and Teresha has been stellar in goal," she said. "We held top teams to eight or nine goals, single digits. If you would have told me before the game that JMU would score 16 goals off of 22 shots, I would not have believed you."
Maiden had another stellar game offensively, scoring four more goals for a total of seven in the two games. Her strong weekend earned her a Drexel CLEAR Athlete of the Week award, as she tallied nine total points in the two conference games.
She was one of six seniors, along with Kelli Joran, Kaitlin Harris, Kristin Kopenhaver, Jessica Rudloff and Emily Bauer, honored before the game as part of Drexel's annual Senior Day at Vidas Field. Vesco mentioned the pregame festivities, with all the emotion involved in the festivities and the meaning of the players playing in one of their final games on their home collegiate turf, as a contributing factor to the team's slow start on Sunday.
"Senior Day is always a day full of emotion, and the pregame festivities seem to have left us unfocused," Vesco said. "But I need to give JMU credit. They definitely came to play."
The seniors will play their final game at home April 19 at 5 p.m. against the University of Delaware at Vidas Field as conference play continues. Despite the rough game against JMU, Drexel has fared very well against the CAA. Off to a 3-1 start, Vesco described the start to the conference part of the schedule as "great." With one more win, the Dragons will have solidified a berth in the CAA playoffs.
Drexel's weekend does not end there. The Dragons get set to face off April 21 against Towson University, a team they have been targeting since the preseason. The Tigers have ended Drexel's season and championship hopes in each of the past two seasons, winning two playoff games by a combined margin of victory of three goals.
Vesco and the team will look to regroup and start another long winning streak, as they've now had two of four or more games on the season. Another four-game win streak would put them in the CAA championship game.
The coach is interested to see how her squad comes out and plays this weekend. She pointed out that last weekend can serve as motivation and a wake-up call. Vesco is looking for players on both ends of the field to step their game up moving forward.
"Sunday was a great wake-up call," she said. "It will be interesting to see how our players respond this weekend. We have to improve on both ends of the field in order to succeed."