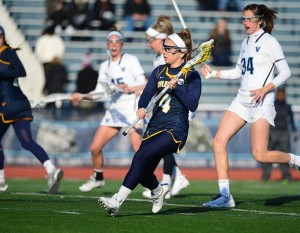 Following a successful two victory road trip in California, the Drexel University women's lacrosse team fell to the no. 9 ranked Pennsylvania State University Nittany Lions at University Park March 30. The final score was 14-5, bringing the Dragons' record to 7-3 this season.
Junior Lacey Aghazarian led Drexel with two goals during the contest. She now has 12 this season. Junior Caroline Thiele contributed with two points. She recorded one goal and an assist. Sophomore Nadia Pelham-Lacey and freshman Maggie Stetson each scored a goal in the loss. The goal brought Pelham-Lacey to 18 goals this season. Pelham-Lacey was held to just one point for the first time since April 3, 2015 in a game against the College of William & Mary.
The Dragons offense struggled throughout the contest. Coach Hannah Rudloff noted, "We just didn't get into our normal offensive rhythm.  We had some great opportunities but just didn't put away the shots that we normally do."
In the first half, Penn State dominated recording nine goals and holding Drexel to one. During the second half, the Dragons were able to compete, only allowing five Nittany Lion goals while scoring four.
Coach Rudloff discussed the change of play that followed the intermission.
"I really thought we did a great job of dictating against a strong PSU offense in the first half, but unfortunately we struggled with adjusting to the type of fouls that were being called," she said.
In the second half, we absolutely dominated on the draw, and did a great job settling in and maintaining possession, which is something we will need going forward into CAA play," Rudloff added.
Dragon goaltender Carlee Ries had 11 saves out of 25 shots in the contest.
Drexel will now prepare for conference play. Looking towards CAA matchups, Coach Rudloff said, "Our team is very excited to get CAA games under our belt, and we just have to channel that excitement into focus and have fun with each and every game.  We are going to need unfamiliar faces to step up, and we have a number of young players who are really ready to do that."
The team will travel to Harrisonburg, Virginia on April 8 to take on their conference rival, the James Madison University Dukes.