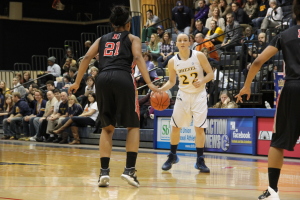 Last season, then-sophomore point guard Meghan Creighton was voted by her teammates and coaches as the most valuable player on a Drexel women's basketball team stuffed with talent and experience.
Creighton averaged 8.2 points and 3.9 assists and played 36 minutes per game, the third-highest scorer with the highest minutes-per-game average on the team. She was still an underclassman, but Creighton contributed big points and bigger minutes in just her second season with the team.
This year she's expected to see the floor even more often as a leader of a youthful Dragons squad predicted to do big things in the Colonial Athletic Association.
"I would say the number one thing that we have seen from Meghan Creighton this offseason is her strength," Denise Dillon, head coach, said. "She has really transformed physically into a point guard that we can have out there on the floor for 38 or 39 minutes every game. She's realizing that she is going to be out there a good bit and needs to physically be able to stand a long season. She physically feels good, which is going to enable us to ask more of her as a player."
With the graduation of starting lineup mainstays in Abby Redick and Fiona Flanagan, the team's reins are being turned over to Creighton and fellow guard Rachel Pearson. Last season Creighton was content as the third option on a potent offensive attack; this season, she will be expected to attack and score more often than not.
In the offseason Creighton said she worked on two primary areas of her game, her ball-handling and her shot on the move. Her ball-handling work was obvious, she said, because of the nature of the point guard position. And with her role in the offense slated to increase even more, she put a focus on her shot as well.
"Particularly shots off the dribble and shots off flare screens because that's what I'll be seeing a lot of," the junior said.
Dillon said the aforementioned strength work that Creighton did this offseason is going to help her shot, especially when it comes to taking shots late in a game that she's been on the floor for almost all of.
The team's confidence in Creighton's passing and game-managing is extremely high after her superb 2013-14 season, and this year Dillon says she wants to see her point guard assert her role in the scoring aspect of the offense as well.
"We think Meg can really shoot the ball," Dillon said. "She has a point guard mentality of executing the offense and not turning the ball over while finding her scorers. She needs to understand that she is one of those scorers."
Dillon explained that the team's ability to move Creighton over to the shooting guard slot and slide guards Alexis Smith and Carrie Alexander into the point should free Creighton up for more scoring opportunities.
And it won't just be her offensive role that Creighton is going to be expanding. With the graduation of the three seniors last spring, the Dragons are in need of fresh leadership.
As a new upperclassman on a roster that lacks a single senior, Creighton will be one player Dillon looks for as a leader in the locker room. Dillon and her coaching staff have been waiting for the precocious point guard to take the next step as a leader, and the veteran head coach believes this year she'll see Creighton take that leap.
"We see [Creighton] talking more in the sense of explaining things off the court," Dillon said. "I would like to see her take control out on the court. She leads, in a sense, by example. She's composed, so there's a natural comfort her teammates feel when the ball is in her hands.
"But I think there has to be more direction and demand on her part. 'OK, this is what we're running. Let's run it, you can do this.' The confidence that she is sensing, she still hasn't verbally expressed, and once her teammates hear that, I think really good things can happen for this team."
Creighton said she knows that confidence is one part of her game that she can't improve with dribbling drills or shooting repetition. She said she struggled with confidence as an underclassman, trying to avoid over-reaching her limits while still leading the offense.
This year, she thinks it's going to be a different story.
It's going to be her show.
"I'd say as a junior, my biggest responsibility is to help the younger players adjust just as much as my upperclassmen helped me when I was a freshman and a sophomore," Creighton explained. "It's not as much my role changing on the floor, but off the floor.
"As a junior I'm ready to embrace the [leadership] role," she said. "I'm confident in my game and I'm really confident in the team's ability. I'm excited to see where we go."