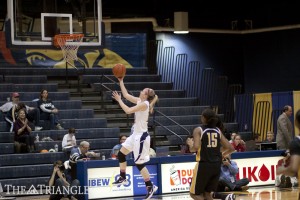 Heading into their first game Nov. 9 against the Friars of Providence College, head coach Denise Dillon and her rugged Drexel women's basketball team will look to adjust to several new awaiting challenges.
The first challenge is to replace last year's leading scorer and co-MVP Kamile Nacickaite. Much of the scoring burden this season will fall on the shoulders of all-everything senior shooting guard Hollie Mershon. Mershon, who was second-team all-Colonial Athletic Association, was the team's second-leading scorer last season and co-MVP with Nacickaite. Mershon averaged 14.5 points and 5.2 rebounds per game last season. Combined with Nacickaite's 16.8 points per game, the duo averaged 35 of the team's 59.8 points per game. The next returning starter, senior forward Taylor Wootton, averaged 7.2 points per game.
Dillon knows that not having another proven scorer will be something her team has to work through in this upcoming season.
"This is a selfless team. They just need to have the confidence to take the shot when you need to take the shot," Dillon said of her team.
Along with the Dragons' potential offensive woes, there is some cause for concern with the team starting freshman Meghan Creighton at point guard. While many teams would be hesitant to start a freshman at such an important position on the team, Dillon was not.
"She has done a really nice job understanding what the team is about, and we feel that she is ready for the job," Dillon said.
Along with Creighton, Mershon and Wootton, junior guard and forward Fiona Flanagan and senior forward Nicki Jones round out the starting five heading into the Dragons' first game against Providence.
While there may be some concern about the team's offense, there is little when it comes to the Dragons' defense. The Dragons have a swarming defense that finished atop the CAA and in the nation's top five defenses, allowing just 54.3 points per game. Along with their defense, the emergence of senior Renee Johnson-Allen has been a surprise for Dillon. She believes Johnson-Allen can be the spark the team needs on both offense and defense coming off the bench.
Dillon said she believes the season opener against Providence will be a good test for her team. It will also be an opportunity to see how her team plays against a higher-ranked opponent. The test against Providence is also an opportunity for Dillon to see how her team performs and what changes have to be made to be better prepared for conference play.
Dillon has high hopes for her team, but she reminded them not to look too far ahead.
"It's a challenging out-of-conference schedule, it will prepare us for a tough CAA run," Dillon said. "It helps the strength of schedule if we win, hurts if we lose. The ultimate goal is to win the CAA. We have to come out ready. We need to be focused; we're playing on the road. Also, with the exception of Taylor and Hollie, there are a lot of new faces on the court. We just have to take it one possession at a time."
A new season brings new hopes and challenges, and Dillon knows that to achieve her hopes and goals for the team, it starts with the opening match against the Friars.