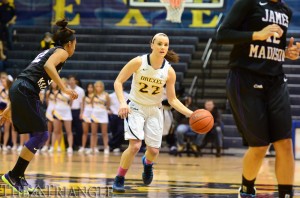 Roommates Megan Marecic and Kelsi Lidge are a dynamic duo — not only as friends, but as teammates on the hardwood.
In their season home opener Nov. 16, the two freshmen each had significant contributions for the women's basketball teams as the Dragons secured their first win of the season against the Cornell Big Red at the Daskalakis Athletic Center.
Drexel, now 1-0, topped Cornell by 11 points in their win, with a 62-53 final score. The Dragons saw three returning players in double-digit scoring — sophomore Sarah Curran, with 12 points in the first half alone, junior Meghan Creighton with a total of 11 points, and senior Jamila Thompson with an additional 11 points.
The Dragons immediately jumped out to a lead in the first half, ending their first 20 minutes of play with a 36-23 lead at halftime.
While the double-digit efforts of the returning players were notable, the Dragons saw equally exciting performances from some of their rookie players, indicating that younger players will again play a key role this season. Lidge, a 5-foot-8 freshman forward, recorded an impressive 21 minutes in her collegiate debut, to finish with a total of four points, three defensive rebounds, two assists and two steals.
Marecic, a 5-foot-11 guard, had an equally remarkable performance in her first contest as a Dragon, pulling down four boards and scoring nine points in her 12 minutes of play. Seven of her nine points came with less than nine minutes remaining in the game, which came in clutch as the Dragons fought to widen the scoring gap with the Big Red, after only scoring seven points in the first 11 minutes of the second half.
While Cornell had the opportunity to fight back with the Dragon's cold offense in the beginning of the second half, Drexel maintained their lead by at least four points at every moment in the second half. Scores from Marecic, Lidge, Thompson and junior Rachel Pearson helped the Dragons pull away from their opponent in the final minutes of the game and finish the day with an 11-point win.
Both Lidge and Marecic are loving Drexel and the team thus far — each commented that their experience has been great, not only on the court but also in the classroom.
"The biggest thing that drew me to Drexel [basketball] was the team," Lidge said. "I wanted to feel that it was a home away from home for me."
"The coaching staff made me feel right at home, they're more [like] moms for me. … They definitely had that home atmosphere. That's what I wanted as well," Marecic said.
Each said that their first experience on the court was a bit nerve-racking, but ultimately rewarding.
Marecic felt particularly excited to be playing her first game as a Dragon. "It was a really great experience, playing with these girls is pretty awesome," she said.
"It felt good. I was pretty nervous … but after moving on it felt a lot easier to play with [the team]. Everyone shares the ball, everyone plays together," said Lidge about her first time on the court.
"Everyone definitely boosts your confidence," Lidge continued, emphasizing the supportive nature of her teammates and the coaching staff.
However, while they each had excellent performances so far, Marecic and Lidge are motivated to continue looking forward and focus on the team's success in the future. When asked about their win, they were more interested in their upcoming games this week.
"[We're] happy that happened, now we're focused on the next one," Marecic said with determination.
Her roommate, Lidge, agreed: "Celebrate it until midnight, then move on to the next game."
The Dragons travel to Princeton University on Wednesday, Nov. 19, to face another Ivy League competitor.
While they're only one game into the season, both Lidge and Marecic have made it clear by their initial performances and determined attitudes that they will be players to watch throughout the 2014-2015 season.
"[I] can't wait to see where the season will take us," Lidge said enthusiastically.