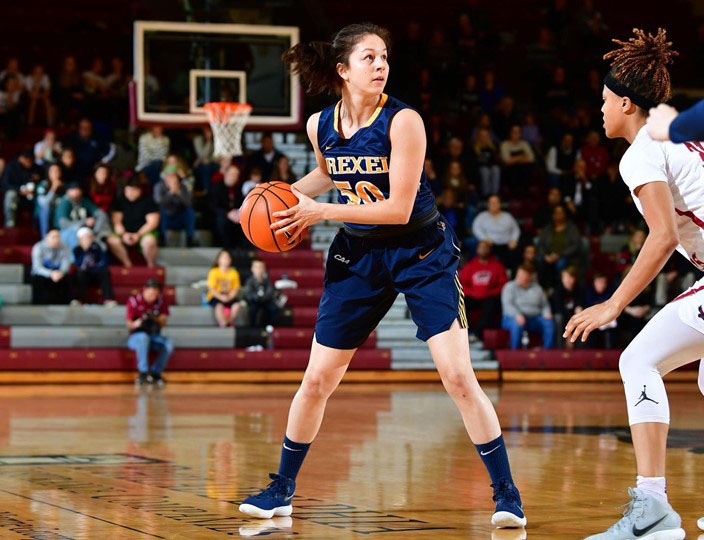 The Drexel University women's basketball team suffered a disappointing loss when they traveled to play Elon University Feb. 9. On their home court, Elon led the entire game, ending the Dragons' eight-game win streak. The loss knocked them out of the No. 1 ranked position in the Colonial Athletic Association standings.
The game began with a rough first quarter, with the Dragons only scoring six points compared to Elon's 13. This was a season-low for points in the first quarter.
The Dragons had a better second quarter but were still trailing by seven points at halftime. They came back to within five points in the third with 3:16 left to play, but a 9-0 scoring run from Elon put them up by 14 points heading into the final quarter.
Elon had their largest lead of 18 points with only 3:31 left in the game. The Dragons attempted a comeback, but were just not making enough of their shots. The final score of the game was 70-58.
The leading scorer for Drexel was sophomore Aubree Brown who had 14 points, three rebounds and two assists. Sophomore Ana Ferariu came away with 10 points and six rebounds. Senior Kelsi Lidge scored eight points and had three steals, but fouled out during the game.
Overall, the Dragons turned the ball over 12 times, shot 20-57 from the floor and made 6-16 from three.
The team moved on to play the University of North Carolina Wilmington Feb. 11 where they finished off the weekend with a win.
With 45 seconds left in the first quarter, the Dragons were up by eight points. A three-pointer from UNCW's Madison Raque with 28 seconds to play made the score 18-13 with the Dragons leading.
Drexel controlled the second quarter and never allowed UNCW to tie. Lidge had already grabbed eight rebounds of the team's total 19 in the first half.
Junior Eline Maesschalck hit a three-pointer with 4:37 to play in the third quarter, and about a minute later sophomore Bailey Greenberg drained a three-pointer. The baskets began a long scoring run for the Dragons, who headed into the final quarter leading 40-29.
Their run continued until there was only 6:30 left to play and UNCW's Timber Tate hit a three-pointer, stopping a 17-0 Drexel run.
Leading by 20 points, the Dragons were comfortable. They finished the game with a few good jumpers and a final score of 58-40 handed UNCW to another loss in conference play.
The Dragons are now 19-6 on the season and 11-2 in CAA play. Five games remain before the CAA Championships begin. Next up, the Dragons host the College of William & Mary Feb. 18 at 2 p.m. and James Madison University Feb. 23 at 7 p.m.