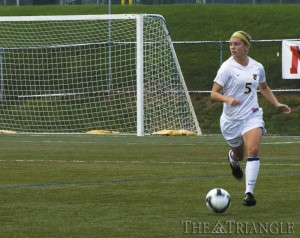 Senior defender Rachael Sheridan dribbles the ball up the pitch in an effort to make a strong outlet pass.
On fields up and down the country, coaches are putting players through their paces, eager to knock the rust of a long summer out of the system.
As the days start to get shorter and the vengeful summer heat slowly starts to give way to the cool promise of fall term, life returns to the Vidas Athletic complex on 42nd and Powelton streets.
For Drexel women's soccer head coach Ray Goon and his assistant Don Overmier, the summer months filled with recruiting trips and planning for the season ahead gave way to evaluations and two-a-day sessions as the squad returned for preseason training Aug. 5.
Asked what his impression of the team was after a week of putting them through their paces, Goon said, "For the returning players we look to see if they have worked on the items we addressed after last season as well as how they are handling their new roles with another season of experience under their belts.
"For the new players we work on getting them acclimated to their new teammates in addition to the increased levels of speed of play, physicality, and decision making involved with the college game. As a team, we feel better prepared than last season and look to continue to our goal of a conference play-off berth," he continued.
Having finished last season with an overall record of 7-11-1 and 3-7-1 in the Colonial Athletic Association, a conference playoff berth is a tangible goal for Goon's side in a conference tournament that often goes down to the wire.
Returning nine starters from last year — including top scorer Jenna Lindsay, rookie standout Sam Greenfield and healthy-redshirt junior Jourdan Halasz — the Dragons have a strong base to build upon in the coming season, a point Goon was keen to make.
"We return a number of players that gained significant experience from our most competitive conference season to date," he said. "We look to take advantage of that experience, on and off the field, to help us make a stronger challenge within the CAA."
Starting off with a tough road trip to 2010 Big East tournament finalists Rutgers (10-9-1, 5-5-1 Big East) Aug. 21, the Dragons schedule definitely poses one or two challenges early on. Drexel follows that game with another road contest, this time at La Salle Aug. 26 before returning to the Vidas complex for their home opener against Delaware State Aug. 28. This is the first of three home non-conference games that Drexel has scheduled before starting their conference playoff push against Georgia State Aug. 23, quickly followed by a match against UNC Wilmington two days later.
The Dragons packed schedule features 11 away games – Drexel was 1-4-1 on the road last year — that will be a stern test of the squad's ability to come together and compete in different environments.
When asked whether he had a clear starting line up in mind yet and how much of a role having an adaptable squad would play, Goon responded diplomatically.
"As with any position, all players are given a chance to compete for playing time," he said. "If there is a clear difference, the decision is easy as to who will play. I told the team, I'm not looking for easy decisions."
This competitive atmosphere will be required throughout the season but perhaps more so for the last three games of the conference schedule that see Drexel on the road against Towson (Oct. 21), George Mason (Oct. 23) and rival Delaware (Oct. 29).
This season the Dragons will be relying on their home form — Drexel was 5-4-0 at Vidas last season — to keep them in contention for that playoff place going into the three-game hurdle at the end of the season.
"In sports, home field is always considered an advantage," Goon said. "I would like the Drexel community to help us ensure this by coming out and creating an imposing atmosphere that opposing teams won't soon forget."
With Drexel's first conference game still months away, a lot of hard work lies ahead for Goon and his squad before that playoff berth can become more than a stated goal.
But if the intensity of the first few preseason sessions is anything to go by, that is a challenge that Drexel is going to face united and with determination.