The Drexel women's lacrosse team is tied with James Madison University atop the Colonial Athletic Association standing with an undefeated record after going 2-0 in their first two CAA contests.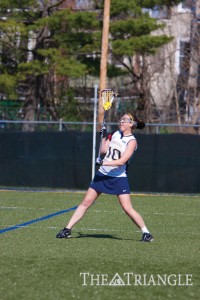 The Dragons (8-3, 2-0 CAA) started off their weekend on the road against Towson (6-6, 2-1 CAA) April 8 in Towson, Md. Drexel defeated the Tigers in a hard fought 7-5 victory. This was the Dragons first win over Towson on the road in school history — Drexel had lost its previous 17 games against the Tigers.
Drexel fell behind early, 3-0, but they came back strong, scoring four straight goals to put themselves in the lead 4-3 at the end of the first half. After a brief tie for the opening minutes of the second half, sophomore attack Alyse Maiden scored both of her goals back-to-back, putting the Dragons in the lead for good. Junior attack Jaclyn Klunder also put two goals in the back of the net.
Next up for Drexel was rival Delaware (6-7, 1-2 CAA) at home April 10 for another tight knit CAA matchup. The Dragons were led by junior attack Charlotte Wood, who scored four goals — she now has 33 on the season.
The Dragons managed to hold off the surging Blue Hens team that came all the way back from a 7-3 deficit. Drexel took that matchup 11-8. Along with Wood's four goals, senior defender Katie Blazer and freshman midfielder Amanda Norcini each recorded two goals apiece. Norcini's first goal came with seven minutes left in the first half,  which put the Dragons in the lead for good.
"We're all really excited about the wins," Wood said. "We have five games left and we really need to win two more to be able to go to the CAA playoffs. So we're taking it one game at a time, but [the CAA playoffs are] our main goal. This past weekend was really big for us, and I'm really excited that hopefully that will carry on to this weekend."
Head coach Anne Marie Vesco also commented on the two wins over CAA opponents, saying that they were must-wins — but not only that, they were expected wins. She also praised her team for the job they did on the road at Towson because the conditions were cold and rainy, but they fought through it for a tough win.
As mentioned by Wood, these two wins are key to the Dragons' success within the CAA, as well as earning a berth in the playoffs. Wood went on to say that if her team were to qualify for the CAA playoffs, it would be the first time in Drexel history. The Dragons also have a shot at earning one of the top two seeds as it sits right now, and Wood says that her team is really excited for the possibilities.
"We've been really close [to a CAA playoff berth] a couple times and these two wins in particular are against middle tier teams, so in the standings we're looking very good," Vesco said. "ODU and George Mason are a little weaker so we're hoping to take those, and then if we can get one or two others that's just icing on the cake."
Drexel's chances to earn a berth as a possible top seed in this year's CAA playoffs did not just fall into their lap; they earned it. At this point in the season the Dragons are having one of their best ever, including one of their best starts in the conference.
Vesco discussed the topic of her team's success this season, saying that it all goes back to her players' chemistry and how they are always together both on and off the field.
"There's really a determination to get to the CAA Tournament this year," Vesco said. "I mean that's always been the goal, but this year they are backing up the talk. They are talking the walk, walking the talk and it looks good."
Wood also talked about the fact that her teammates are just very confident in each other. They have been able to fight through a few tough games this season in which they have fallen behind early, but manage to come together as a team to pull out the victory.
Some of that confidence might be due to that fact that Wood is having a stellar season — and she is getting noticed.
Wood has recently been named to the Tewaaraton Award Watch List, the National Collegiate Athletic Association's lacrosse equivalent of football's Heisman Trophy. The Tewaaraton is awarded to the nation's top player in both men's and women's lacrosse. To even be nominated is quite an honor, and Wood is very aware of that fact.
Vesco is also proud of the fact that her star player has been able to raise some eyebrows around the NCAA and shed some light on Drexel's ever-improving program.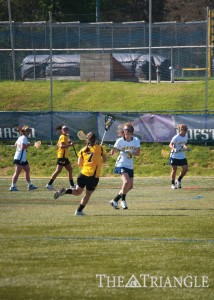 "Charlotte's done really well, not only this year but in her career," Vesco said. "She's a great athlete, and she's a scorer and people are noticing. She's our leading goal scorer and it's nice to get noticed; it's really great."
Next up for the Dragons is Old Dominion (2-8, 1-1 CAA) in Norfolk, Va. April 17.
Vesco says that her team and coaches are definitely expecting a win.
Also, Wood expressed her expectations for the game against the Monarchs, saying, "That's just one more step closer to the CAAs."