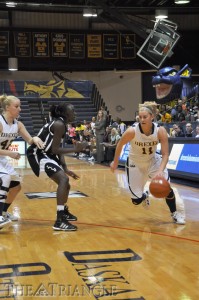 The Drexel women's basketball team suffered a painful 60-52 loss in their season opener at home against Long Island University Nov. 11. This matchup took place during the first round of the Preseason Women's National Invitational Tournament.
The Dragons (0-1) were not only out-rebounded 24-12; they were also outscored, as they only hit 4-for-23 in the field during the first half.
"It's early, we don't know that team, they don't know us — so you have to adapt, you have to adjust as the game is going on, and we did not," Head Coach Denise Dillon said. "In the first half we did not make the adjustments. Once we had them pushing and shoving, we did not adjust. We kind of crumbled."
At the start of the game, Tyler Hale made two of two at the line, bringing the score to two apiece. This would be the only time the Dragons would tie with the Blackbirds throughout the rest of the showing.
From that point on, Long Island dominated the game. They consistently played strong defense and equally impressive offense. They took advantage of the Dragons' slow start and attacked the basket every opportunity they had.
LIU even held Drexel to a 10-2 deficit before the Dragons scored another basket, which happened almost 10 minutes into the half. Drexel's offense was missing easy shots, and the defense was sleeping.
"Defensively I was infuriated about the rebounding — that to me is just lack of effort at that point. So there are certain things that you can control in the game, and I always think defense is the No. 1 part," Dillon said. "Some days you are going to be hot, and some days you are going to be cold, but you have got to stick to the defensive end."
Closing the half, the only Dragons to score baskets were Hale, Kamile Nacickaite, Marisa Crane, Hollie Mershon and Ayana Lee.
After an embarrassing first half, the Dragons went to the locker room knowing that Long Island had the lead at 27-12.
"I was fired up in the locker room. I was extremely disappointed with how we came out. I laid into them and just explained that there are certain things that you can control," Dillon said. "I keep talking to them about the purpose. Make or miss a shot, recognize that it was the right shot or the right pass. So if you see that, then it will carry over, and you will continue to get looks and work your way out of [a slump]."
Although Dillon tried to motivate her team to liven up for the second half, the motivation and excitement was ultimately not enough to make up for their poor performance in the first.
Dillon even cleared her bench multiple times.
"I was just trying to get a rise out of them," she said. "Just trying to get the energy going — the understanding going and get everyone involved. When things aren't working you have to go to something different."
Every player was in the game for at least one minute. But of all the players who participated in the LIU game, one made a significant difference for Drexel.
Mershon scored a total of 18 points in the second half alone, bringing her game total to 26 points — her personal career high. Mershon helped her team finish with a respectable score, earning half of the team's total points herself. Not to mention she also finished with six rebounds — one offensive and five defensive — two assists, one block and two steals.
"Hollie has been consistent since day one here, and that's what we talk about with all the players. If you can be consistent in what you do, with all your training and at practice, then it carries over into the game," Dillon said. "She is just gutty. She is one of those players who wants to win so badly that she is going to leave it all out there. And I hope that passes on to the rest of her teammates."
Unfortunately, her fellow teammate and point guard, Crane, didn't have such a successful showing. After missing a good chunk of the 2010-11 season due to an injury and not participating in the first two scrimmages of this season, Crane was a little rusty.
She played for 24 minutes, and during that time she had a total of two points, one assist, one steal and three rebounds. It appeared as though her control over the game wasn't the strongest, but that has to do with regaining experience and confidence on the court.
"[Crane] has been really limited at practice, so I take responsibility. I think I kept her out there too long," Dillon said. "So I will definitely put that on my shoulders — conditioning-wise and strengthwise, she is still trying to get back into it."
Despite the slow start, the Dragons managed to slice their deficit to just seven points toward the end of the second. Unfortunately, it was too little, too late, and Long Island took the game 60-52.
Drexel is set to take on the Detroit Titans at the University of Akron Nov. 18 at 5 p.m. for the consolation round of the Preseason WNIT. The hosts, the University of Akron Zips, will also compete Nov. 18, but at 7:30 p.m. against Howard University.
The winners and losers of both games will play each other Nov. 19 at 5 p.m. and 7:30 p.m., with Akron holding the 7:30 p.m. timeslot regardless of their game's outcome.
In order to prepare for their upcoming game Dillon has a plan in store for her team.
"We will watch [the LIU game]," she said. "I want them to own it; I want them to recognize how bad it was out there. If they can do that, then we will certainly move forward."
Let's hope that a week is enough time for the Dragons to get back on track and show the Titans what they are made of.