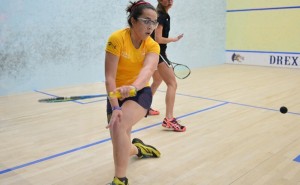 The Drexel University women's squash team took to the courts at the Kurtz Cup in Cambridge, Massachusetts, Feb. 13-14. The women split their matches against the Stanford University Cardinals and the Franklin and Marshall College Diplomats, 1-1.
The Dragons were defeated by No. 10 ranked Stanford, 7-2 in the first round of the Cup.
The two wins for Drexel came from Elisa Money and Laura Rahauser. Money swept her opponent Alex Huchro in the fourth spot. Rahauser battled it out in five games beating Cardinal Sarah Haig in the fifth spot.
Kaitlyn Money also put in a good effort against Tatyanna Dadabbo, ultimately losing in five games.
Against Franklin and Marshall, wins came in spots one through eight for the Dragons. Hayley Hughes, Mary Fung-A-Fat, Elisa Money, Kiran Vasudevan and Rahauser all defeated their opponents in three-game sweeps. Ryan Morgan and Abigail Kaplan recorded wins in four games, while Kaitlyn Money secured a victory in a five-game effort.
The Drexel women finished out their 2014-2015 season with a 9-1 win over the No. 14 ranked Diplomats. The Dragons final record stands at 9-11 with a No. 15 rank.
The women return to action in Princeton, New Jersey, Feb. 28 through March 1 for the Individual Championships.