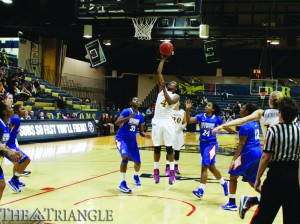 After losing two consecutive games for the first time this season, the Drexel University women's basketball team got back to its winning ways by defeating Georgia State University Feb. 3 and Towson University Feb. 5.
It was an all-around effort for the Dragons as they defeated Georgia State 79-55 at the Daskalakis Athletic Center. Head coach Denise Dillon received her usual stellar performances from seniors Hollie Mershon and Taylor Wootton, who scored 25 and 20 points, respectively. However, it was the contribution from all 10 players who saw the court that solidified the win.
Dillon received balanced scoring from her team, as all 10 players scored in the game. As a result of the team effort, the Dragons shot 52.6 percent from the field in the game. The first half was a back-and-forth affair by two teams fighting for positioning within the Colonial Athletic Association. Drexel held a narrow 33-31 lead at the end of the first half. However, the Dragons shut down Georgia State in the second half on defense and held them to only 24 points, while the offense burst out for 46 points in that half. Senior forward Nicki Jones added eight points and four rebounds while junior forward Abby Reddick chipped in with six points, three rebounds and two assists. The Dragons shot 62 percent from the field during the second half to pull away from the Panthers.
After dispatching Georgia State at home, the Dragons went to Towson and blew past the Tigers for their 10th road victory of the season. The 10 road wins set a program record for the Dragons. Six players scored at least six points for the Dragons, as Coach Dillon received yet another balanced scoring effort from her team. Mershon led the Dragons again in scoring with 19 points.
The defense set the tempo from the start by not allowing a field goal for the first 6:27 of the game. Towson's leading scorer, Tanisha McTiller, the conference's second-leading scorer behind Mershon, couldn't do much against the stifling Dragons defense. McTiller went 1-9 from the floor and finished with just 14 points. Other Dragons that contributed included senior guard Renee Johnson-Allen, who finished with six points and a game-high five rebounds; and junior forward Tory Thierolf, who set a career high with nine points.
Mershon, with her 19 points, moved up to to 12th on the Dragons' all-time scoring list with 1,256 career points. The Dragons will receive a much-needed five-day break after playing two games in three days. They will return to the court and host Old Dominion University Feb. 10 at 4:30 p.m.