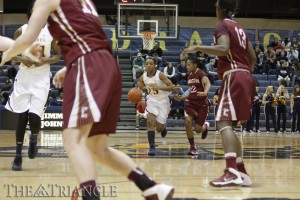 It has been a rocky start to the season for the Drexel women's basketball team. Coming into this week, the Dragons have struggled to find consistency, winning and losing games in bunches.
Standing at 7-8 and now in the Colonial Athletic Association portion of the schedule, the team has had its share of ups and downs. They picked up a few quality victories at the St. John's Chartwell's Holiday Classic last month but surrounded it with a string of losses, both going into and coming out of the tournament.
"It's just inconsistent play," head coach Denise Dillon said.
A silver lining is that the team is not getting dominated in the losses. Instead, they are losing close, tight games that they often have had the chance to win. On the season, the team has suffered six losses by only seven points or fewer, but that does not make them any easier to accept.
"When you say those stats, it's a little bit harder [to explain what has happened]," Dillon said.
One area in which the team has struggled is late in games, the time when close contests are decided. Having lost so many close ones, Dillon said she thinks the team is tightening up and playing afraid to make a mistake, which ironically leads to more mistakes.
"I feel this group has struggled down the stretch late in the last couple minutes of games," Dillon explained. "They play with a fear of not giving the game away."
As they transition to the second half of the schedule, CAA play, the Dragons hope to put that fear behind them. Dillon said she thinks it is one they can easily overcome as they move forward in their season.
"We're just hoping to turn that corner," Dillon said.
Drexel did manage to get back in the win column last week with the start of conference play. The Dragons defeated the College of Charleston 68-55 Jan. 9 for their sixth win of the season, but it was just their second at home.
Five Dragons scored nine or more points, led by Abby Redick's 16. Meghan Creighton played another solid game and added 11 points and seven assists.
Overall, the team thrived shooting, hitting 50.9 percent of their shots from the field. That was despite only hitting four of 15 three-point attempts.
The Dragons locked down defensively as well, limiting the Cougars to just 21 team field goals on 61 attempts. CofC shot 34.4 percent overall and only received significant scoring contributions from Afreyea Tolbert, Alyssa Frye and Breanna Bolden, who scored 12, 11 and 10 points, respectively.
"The defensive end is something we have been consistent with," Dillon said. "No matter how much we struggled offensively, we rely on our defense and we hope to continue that."
Their 13-point victory matched their biggest win so far this season, so there is early encouragement that conference play will be the platform for the team to "turn that corner." According to Dillon, the tough out-of-conference schedule — during which they had their bouts of inconsistency — was used to prepare the Dragons for their CAA foes, starting with the Cougars.
"We went through the tough out-of-conference schedule to prepare for now," Dillon said. "Conference play is the most important part of the season."
The Dragons continued with conference play and hit the road for their first CAA road trip of the season. They faced The College of William & Mary Jan. 16 in Williamsburg, Va., and rolled the Tribe by a score of 89-49. Redick recorded the first triple-double in program history with 12 points, 10 rebounds and 12 assists. Drexel will look to extend its win streak to three games when they take on the University of Delaware Jan. 19 in Newark, Del.