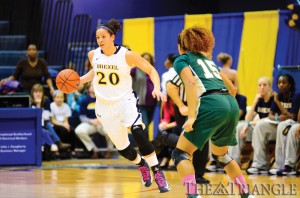 There are two games remaining for the Drexel women's basketball team before the Colonial Athletic Association Tournament. One of their remaining games is against a rival and the No. 1 seed heading into the tournament, the Blue Hens of the University of Delaware. However, before facing Delaware March 3, the Dragons had to get past two very tough opponents trying to stop their two-game winning streak.
Head coach Denise Dillon and her team completed their three-game homestand by defeating The College of William & Mary 62-47 to earn their third consecutive victory. Freshman Meghan Creighton had an offensive explosion for the Dragons, as she led the team with a career-high 20 points. Along with her 20 points, Creighton added three rebounds and two assists. Creighton's career night was the most points by a Drexel freshman since 2007, when Gabriela Marginean accomplished that feat eight times during the season. Dillon expected such a performance from her freshman guard and knows she has more of that in her.
"It's big for us to have her as a scoring threat. I know she has the ability, but it's a matter of confidence," Dillon added.
Senior Renee Johnson-Allen, who was inserted into the starting lineup when fellow senior Nicki Jones was lost due to injury, grabbed a career-high 12 rebounds, including six offensive rebounds.
"Renee is 5 foot 6, and she plays like she is 6 foot 6. What she did rebounding is tremendous," Dillon said of her senior guard.
"Renee is awesome. She has adjusted really well being inserted to the starting lineup, and what she did rebounding was amazing," Creighton, who also earned her the CAA Rookie of the Week award, said.
Along with the strong performance from Johnson-Allen and Creighton, senior forward Taylor Wootton added 10 points and six rebounds. Six of her 10 points came down the stretch of the game and were crucial in putting the game away for the Dragons as they finished their homestand on a high note.
In order to earn their fourth straight victory, the Dragons continued to get a strong performance from the supporting cast of their team. Johnson-Allen continued her recent string of excellent performances by earning her first career double-double. Johnson-Allen scored 10 points and added another 12 rebounds. She now has 24 rebounds in the past two games, more than any other Dragon. Senior guard Hollie Mershon led all scorers with 23 points. Creighton added 12 points, including four of seven from three-point range.
The Dragons earned a 58-49 victory over Georgia State University in what will be their last meeting as CAA foes. Georgia State will be leaving the conference after this season. The 20th victory of the season for the Dragons marked the fourth time the program has reached that mark. Their victory against Georgia State also marked the ninth road victory of the season, which ties the school record. The Dragons will have an opportunity to break that record when they travel to Newark and take on Delaware.