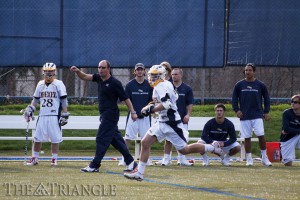 Head Coach Brian Voelker gives his payers direction during a 2010-11 game. Voelker is entering his third season as head coach and hopes to make this season the best yet.
Like a great wine that gets better with age, the men's lacrosse team improves each year with the guidance of head coach Brian Voelker.
Voelker is entering his third season as the Dragons' head coach — and he didn't have to travel far for the job. After seven years of coaching the University of Pennsylvania, he packed up and moved right across the street. How does coach feel about the big move? He loves it.
"When coaches move around, most of the time you don't get the opportunity to pack a box, walk three blocks and go to your new office — but my wife and I love it here in Philly — the administration, the fan support, the kids at the school have really supported the program and the kids on the team here have been really good," Voelker said. "Drexel has been a great move for me personally, and for my family, so we are excited to be here … and a Dragon is much cooler than a Quaker."
And we are certainly excited to have this talented coach. He brings with him years of experience and a laundry list of accolades. As a former lacrosse player himself, he graced the fields of  Johns Hopkins and certainly earned his spot on the roster. He was a three-time All-American defenseman for the Blue Jays.
And that is just the tip of the iceberg — Voelker also played for the Philadelphia Wings and earned three championships — and not to mention he made the United States World Team and won both years that he played.
When asked how he translates his defensive background to a full-field coaching approach, Voelker says he owes a lot of his success to his all-star assistant coaching staff.
"I have been lucky. The places I have been and the teams that I have coached have had strong assistant coaches that can handle that end of the field," Voelker said. "I think our whole coaching staff kind of works together and does a lot of things together; I also roll up my sleeves and coach a lot of the defensive stuff for our team and just feel confident that I can give Conor [Ford] [the offensive] half of the field and he is going to get the job done."
With 11 new players joining the roster, the coaching staff has their hands full with potential position players. Although they are young, the coaches are looking for determination and a solid skill set in their new players — most of which already have both.
The new faces include three attackmen, six midfielders and two defensemen. Cory Dobyns, Ryan Belka and Chris Frederick are joining the attackmen, while James Esser, T.J. Foley, Chris Joyce, Mason Pynn, Nick Saputo and Clifton Simeon are joining the midfielders. And finally Donald Dalton and Pat Root are the latest members of the long sticks.
"We got our first dose of [the new players] yesterday, and as a coach you never really know what to expect until you get the guys here and you see them running around," Voelker stated. "But some of the young guys played well yesterday, and I think there are a couple of them who are going to compete for playing time."
Even with budding stars, there is a whole host of returning players to look out for. Starting with, as Voelker puts it "the guy that literally and figuratively stands out for [the Dragons]," goaltender Mark Manos. With a big stature and larger-than-life stick skills, he's got it going on. The two-time All-American will certainly stand tall in the goal and block off potential competitors.
Other returning players to look out for are Frank Tufano, Dana Wilber and Brian Teuber on defense, Kyle Bergman and Kevin Stockel at midfield, and heavy shooters Robert Church and Brendan Glynn on offense.
In addition, Voelker feels that Andrew Collins and Chris Farquhar are two seniors that have strongly impacted the team in the past and will likely step up and perform in their final years as Dragons.
With the fire lit under their bums from the "disappointing" 8-6 previous season, the coaches and players have set high expectations for the team.
"I think that [disappointment] is actually a good thing for our program — when you have a year that you are above .500, you did pretty well, but our team just wasn't satisfied with it," Voelker said. "We have lofty goals for the program; we want to be the best team in the CAA, we want to be in the NCAA tournament and we want to be the perennial team that makes the playoffs. We have got a ways to go to get there but the guys have been working hard towards those goals."
Although these goals are large, they are far from out of reach. With the guidance of Voelker and his assistant coaches as well as the apparent talent on the team, there's no stopping the Dragons from blowing fire all over their opponents. Really, there is only one thing left to say: NCAA here we come.