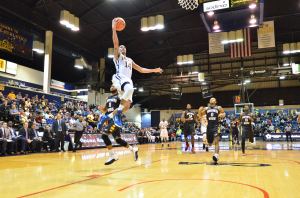 As the Drexel men's basketball team wound the clock down Nov. 30 with a win against the University of Southern Mississippi deep in its back pocket, head coach James "Bruiser" Flint was able to finally relax. He shared a laugh with a referee standing next to the Drexel bench as his team waited out a media timeout, a 23-point lead in tow.
A large part of that easy-going scene was thanks to Flint's team shutting down the Golden Eagles' offense from tipoff. Long a hallmark of Flint teams, the Dragons held Southern Miss to 36 points in 40 minutes. The Eagles made just 31.9 percent of their shots.
After five solid defensive efforts, often felled by turnovers, Flint said he saw a defensive effort from his team that he thought was befitting of the name on the front of the white jerseys.
"I thought we did a good job," the veteran head coach said after the game, casually kicked back in his plastic chair. "We stayed on top of a couple guys that I thought were tough match-ups."
Flint pointed to Southern Miss guard Matt Bingaya, who entered the game averaging 19.5 points per game, as one of those tough match-ups. The Dragons held Bingaya to seven points on eight shots in 26 minutes. Bingaya didn't start the game, a coach's decision, but still played the third-most minutes of any Golden Eagle.
The sophomore scorer had his chances. Flint's team just didn't give him any good ones.
"One of the things I thought we did a good job with," Flint continued, "was that we kept them out of the lane and made them shoot shots over top of us. That was the key right there.
"They've been scoring points, they've been winning games. We knew it is what it is, coming in. I thought we did a good job defensively. They're a team that scores points and they're a team that penetrates and gets in the lane, and that was the whole game plan. Try to keep them out of the lane and shoot shots over top of us."
Drexel allowed 21 first-half points, compared to just 15 in the second half. Southern Miss's output in the first half was thanks almost entirely to forward Norville Carey, who scored 14 points on eight shots in the first stanza. Carey saw the hoop almost at will, something Flint said he instructed his forwards to clean up in the second half.
Freshman forward Tyshawn Myles, Flint said, impressed him with his second-half defending against the older big man Carey.
"[Myles] did a good job, and I thought he did a good job in the second half guarding Norville Carey," Flint said. "He got [Carey] off his spot, played big underneath the basket."
At halftime, Flint said he told his forwards, including Myles, that they had to get Carey away from the hoop. Too many times in the first half, Flint explained, Southern Miss's big man had his way in the paint because he ended up so close to the hoop.
In the second half, that changed.
"All we did was tell them to beat [Carey] over on the screen and sort of get an arm around him, so we just made him catch it out three or four steps more," Flint said. "That was the difference. Nothing crazy."
Myles also brought a big rebounding effort to the contest, leading all players by picking up 10 boards, a career high.
The freshman forward has seen his playing time increase significantly since fellow freshman big man Austin Williams went down with a left foot injury that sidelined him for at least six weeks. With his impressive performance against Carey and the rest of the Golden Eagles, Myles should see even more playing time in the coming weeks, an encouraging sign for a team thin at so many spots because of injuries.
Of course, Flint was quick to note that Myles still has a long way to go.
"He's got a long way to go, so don't be anointing him, alright?" Flint said with a laugh.
But there was no question that Flint was pleased with his young forward's performance in the win, and with his entire team's defensive showing. For a head coach whose entire reputation hinges on sweltering defensive intensity, limiting an opponent to 36 points was pure bliss for Flint.
The 36 points were the fewest a Flint team has allowed since Jan. 4, 2012, when his Dragons held Towson University to 27 points.
And, besides defensive hustle and successful halftime adjustments, Flint attributed the defensive excellence to his team limiting their turnovers. Early season losses to St. Joseph's University and the University of Southern California saw his team allow double-digit points off turnovers. Against Southern Miss, Flint explained, that didn't happen, and the difference was evident.
"To be honest with you, our defense hasn't been bad," Flint said. "We've just been throwing the ball to [opponents].
"We still had 11 turnovers today, but what we didn't do — we had 11 turnovers," he said as he craned his neck to look at the score sheet, "and they scored six points."
The Dragons play again Thursday, Dec. 4, against the University of the Sciences, as Flint's players look to keep the defensive momentum rolling.
___
LEE FROM THREE
Junior guard Damion Lee continued his red-hot start to the season against Southern Miss, scoring 22 points on just 10 field goal attempts.
Through six games this year Lee has knocked down 47.6 percent of his 42 three-point attempts, including 14 of his last 23. Already the most dynamic scorer on the team, Lee has made his range the team's most deadly weapon, giving the Dragons efficient scoring as well as spacing the floor.
Lee said, with the way the Drexel offense is set up, he knows he'll get his shots. Right now, they're all falling.
"Shooters shoot, especially in this offense where the guards take most of the shots with the clock winding down," Lee said after the win. "One thing that I really do is pick my spots on the floor and know where I can get hot, and where I feel the most comfortable shooting."
One of those spots seems to be the wings, typically the left wing on the floor. He hit his first two three-pointers of the game from the same spot, and one in the third, and has favored those areas in all six games this year.
Lee added that despite his recent success, he's not resting on his laurels.
"Of course I still have a lot of work to do, and I'm not content," the junior said. "But I'll take that it's going in for now."
HE'S TALKING ABOUT PRACTICE
After playing the first five games of the season in a 10-day span, the team had six days off leading up to the game against Southern Miss.
Flint said after the game, as he had said after previous games, that he still wants his team to get more time in practice sessions.
"My big thing with this team is we've got to start getting some practices in," Flint said.
But Flint said that he has seen improvement from his younger players, who benefitted from the days off and the extra time in the gym working on things they struggled with in the early going.
"The guys who have actually been in practices are the guys who are doing okay," Flint explained. "[Freshman guard] Rashann [London], [freshman forward] Tyshawn [Myles].
"Those guys actually in the games are doing okay, but those guys are the ones that have been out there actually practicing all the time. So we've got to get some of these guys out there to practice, to be able to get some rhythm, what we're looking for, what we're trying to do."
London and Myles played arguably the best games of their respective careers against the Golden Eagles. London scored nine points in 26 minutes on the floor, while Myles picked up 10 rebounds and his first career dunk.
HITTING THE BOARDS
The Dragons out-rebounded the Golden Eagles, 38-24, in the Nov. 30 win. They grabbed 11 offensive rebounds to Southern Miss's eight, and generally dominated the glass all night long. The Drexel offense's ability to force the Eagles into a defensive posture helped on the defensive glass, as did the team's ferocity in going after boards.
Freshman forward Tyshawn Myles led the team with 10 rebounds, the highest output of his career.
Flint said after the game that he made it simple for Myles, who played 19 minutes.
"I told [Myles] if he wants to play he's got to rebound the ball," Flint said with a smile, "and he did that."
Flint said he was pleased with the way his entire team rebounded the ball.
"Although we had our moments, we kept them off the backboards," Flint explained. "We made them take tough shots and we rebounded the ball, and that'll give you a chance."
Sophomore forward Mohamed Bah added nine rebounds.
ALLEN DEALING WITH KNEE
Junior guard Tavon Allen was hampered once again by a left knee injury. After playing 19 minutes in the first half, Allen played just 13 in the second half, asking on more than one occasion to come out of the game.
Allen was attended to by trainers for the final four minutes of the game. He scored eight points on 3-of-10 shooting and added three assists in 32 minutes.