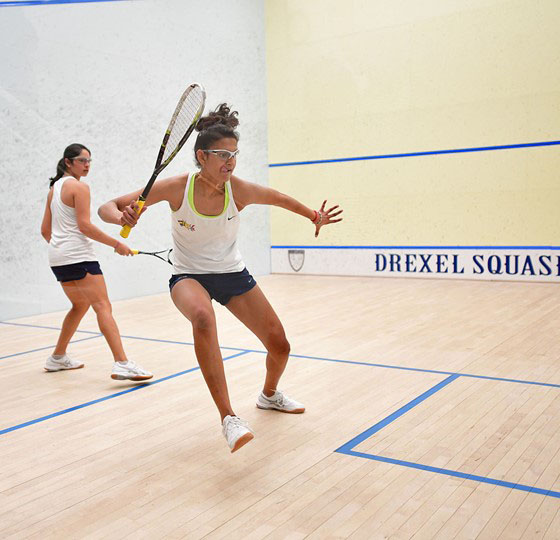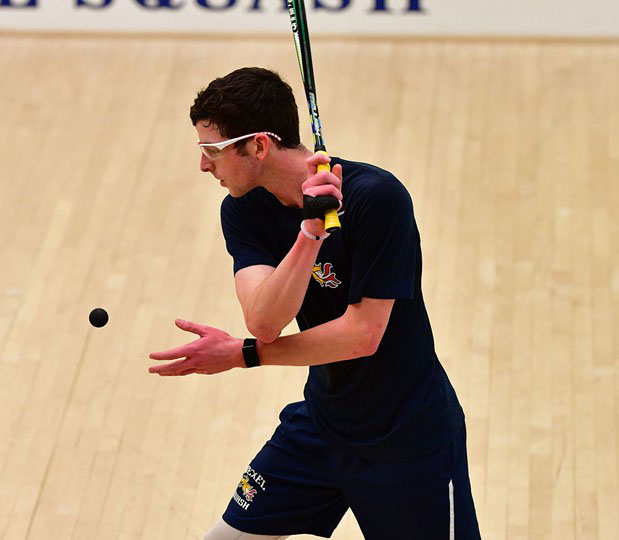 The Drexel University men's squash team bounced back in style this weekend when they downed two rivals with convincing 8-1 scores.
First up Jan. 13, the men's team took on the United States Naval Academy in Maryland. Renowned for being a physical contest, the Dragons stood strong against the Midshipmen to secure the 8-1 victory. Despite a score that suggests a dominant win, only one of the eight wins came in three games.
Sophomore Lucas Rousselet started off proceedings in the top spot with a win in four games over Michael Kacergis. Senior Atticus Kelly and junior Bransten Ming then followed suit with similarly hard-fought wins at No. 2 and No. 3. Next up, freshman Dylan Kachur made an impressive come-back from two games down to beat Owen Davis at No. 4.
Senior Nat Fry dropped his first game but then powered to a win over Dylan Sweeney  9-11, 12-10, 11-9 and 11-8. With the only sweep, junior Joshua Hughes made light work of opponent Jamie Kjorlien, 11-7, 11-2, 11-9. Senior Cillian Dunne and sophomore Mostafa Abouel Makarim finished off the day for the Dragons with wins at No. 8 and 9.
The second contest of the weekend saw the men take on Franklin & Marshall College at the Kline & Specter Squash Center Jan.14. Despite missing Kachur and Rousselet from Sunday's line-up, the team secured another 8-1 victory to take them to 4-6 on the season.
Kelly put in another stand-out performance, this time at No. 1, to take home the win over Sanjay Jeeva in five games: 11-9, 11-3, 7-11, 12-14, 11-5. This was his third win in a row, and led to him being named the Drexel University School of Education Athlete of the Week.
Ming and Fry took their wins at No. 2 and No. 3 without dropping a game. Senior Noel Solomon defeated Samm Fulton at No. 5 11-9, 11-3, 11-2, and Dunne made light work of Boden Polikoff, 11-9, 13-11, 11-4, at No. 6.
Makarim made his mark at No. 7 as he beat Kingman Bassett: 11-9, 11-7, 11-7.
"I was supposed to play at No. 9, but I played No. 7 … It was pretty easy actually, I was happy I played well," Makarim said.
Junior Royston Raymond slid easily into the No. 8 position to win in four games: 9-11, 11-5, 11-4, 11-5. Junior Will Grady finished out the match for the Dragons as he battled out five games to secure his win at No. 9.
The women's team took down Franklin & Marshall in similar style, finishing with another 8-1 victory at home. Bar the No. 1 position, every other player managed to sweep their match in three games, leaving no doubt as to who left as the dominant team on the day.
Senior Ryan Morgan and freshman Hannah Blatt were particularly quick to down their opponents, barely dropping any points as they cruised through to wins for the Dragons.
Both teams continue their 2018 campaign as they travel to Charlottesville, Virginia to take on the University of Virginia Cavaliers Jan. 20.