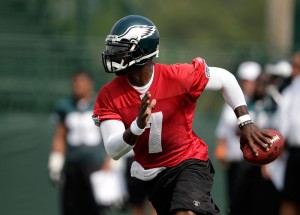 The pre-season is just that: a period before the regular season. It has almost no bearing on what will happen when wins and losses count, but when you are the self-proclaimed "dream team" of the National Football League, you tend to be under a microscope.
The Eagles were anything but dreamy against the Pittsburg Steelers Aug. 18. Can zero touchdowns by your first and second unit be overlooked? More importantly, quarterback Michael Vick threw three interceptions and back up QB Vince Young threw one pick. Vick was wild, overthrowing a post to wide receiver DeSean Jackson on the first play of the game, and then throwing a weak ball in the general direction of WR Riley Cooper that was picked off by the Steelers.
On Vick's second, he threw into triple coverage — that's right, triple coverage. I'm sure fans were screaming in their living rooms at that point: "Hey Vick, we're wearing white, not black!" The third INT was just another drop in the bucket at that point, while Vick was under pressure and just threw the ball up to be tipped and caught by the Steelers' Troy Polamalu. To be fair, though, Vick wasn't getting much help from his offensive line.
He just didn't look comfortable in the pocket. He looked like a boxer out there, dipping and ducking out of the way of incoming rushers, but that's his game. He still looked rushed and uncomfortable, not the normal Vick from last season.
The defense, on the other hand, was not much better. Cornerback Asante Samuel was pretty peeved when the Eagles acquired CB Dominique Rogers-Cromartie and coveted CB Nnamdi Asomugha. He felt left out of the picture and he wanted to prove his worth to his teammates and fans.
So Samuel was beat on the Steelers' first touchdown when he over-committed to a pump fake by Steelers QB Ben Roethlisberger and left his man wide open. There's Samuel earning his keep. The improved secondary of the Eagles didn't show their faces in this one; Asomugha, Rogers-Cromartie and Samuel all showed a zero in the passes defense department.
However, the big boys up front showed up. New additions Cullen Jenkins and Jason Babin, both defensive ends, had a sack a piece and three total tackles. Babin and Jenkins also hit the QB two times each. The pass rush will no doubt be a huge threat this season for the Eagles. The Eagles are stacked at DE with veteran Trent Cole rounding out the group.
So should we be panicking? Should Eagles fans start to "boo" at the next home game (if they haven't done so already)? The answer is no.
It's been a shortened offseason; practices and team activities have been missed. What's most difficult about this offseason, especially for the Eagles, is all of the new pieces they've acquired. The talent is there, but the schemes, plays and trust aren't  there yet.
This is why having four preseason games is important, especially in a lockout-shortened offseason. This is the time of year where mistakes can be made, and until Sept. 11 all mistakes will be forgiven.
Winning the NFC East is in reach for the Eagles, but are they better than the defending champion Green Bay Packers, Atlanta Falcons and New Orleans Saints?
These are the questions that can't be answered during the preseason; talent isn't a true indicator of a champion. Cohesion, teamwork, endurance and heart are the marks of a champion. Quite frankly, these players haven't been together long enough to give an accurate measure of those four qualities. We'll learn a lot more about this team as the season goes on.