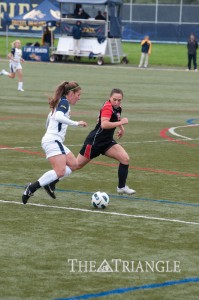 Senior forward Jenna Lindsay dribbles the ball upfield toward the goal against Northeastern sophomore defender Cassidy Costa. The Dragons and Huskies played the entire game Oct. 2 at Vidas Field without managing a score as the teams ended in a 0-0 draw.
Written off at an early stage of the season by a Colonial Athletic Association preseason coaches' poll, Drexel has gone about this season with a quiet focus that has seen them finish much higher than predicted. The poll, which is based on votes from individual coaches' opinions of who is going to finish first in the CAA, put forth the perception that Drexel would be, for the most part, a curious observer rather than a factor in the postseason race.
"We knew we didn't deserve to be put in the bottom of the preseason poll, but it gave us more determination to prove the conference wrong," team captain and redshirt junior Jourdan Halasz said after her team's game against Delaware Oct. 30. "We believed in each other and played well as a team, not just as individuals."
Drexel started the season off with a narrow one-goal loss on the road against Rutgers, which was quickly followed by a hard-fought double-overtime draw against La Salle at the McCarthy Stadium. Drexel then opened their home schedule with back-to-back wins against Delaware State and Temple University.
Thus, the template for the season was set — Drexel looked impervious to losses at home and unable to win on the road.
Their next four games would see the Dragons play on the road against nationally ranked Virginia — Drexel lost 4-0 — and draw against crosstown rival Temple at the Vidas Athletic Complex before losing back-to-back road games against Wagner and Rider.
With a 2-4-2 record at the end of their non-conference games, Drexel began its CAA schedule with two home wins: the first, a narrow one-goal win against Georgia State, and the second, a resounding thrashing of UNC Wilmington. The two-game winning streak equals the program's best start to a conference schedule.
Senior forward Jenna Lindsay spoke after the Delaware game about her team's progress throughout her time as a Dragon.
"The program has changed so much since I came in as a freshman," she said. "Coach would always talk about how in previous years we would always strive for a couple shots on goal or to get a corner kick in games, so we could get opportunities.
"Now we're competing with the top teams in the conference, beating them or going into overtime with them. It's a great feeling to look back and see how far this program has come and how all the hard work is starting to pay off."
Drexel's next four games would include trips away to Hofstra, William & Mary and Old Dominion, sandwiching a home game against Northeastern University. The Dragons' road woes came to the forefront once again, as despite playing well in all four games, they could only come away with a point from the home draw against Northeastern.
This meant that the Dragons went into their last home weekend doubleheader needing a win to keep them in touch with the rest of the playoff contenders.
"The aspect that stands out the most to me with our team, and our program as a whole, is the overall maturity and development that occurred," head coach Ray Goon said. "By that I mean how we are dealing with adversity and the challenges that confront us. Whether it was the injuries that affected our most recent lineup, scoring droughts, or our inconsistent play in games on the road, the team took on each challenge with more focus and determination.
"We developed the mentality and approach that the cup was more often half full rather than half empty, which we did not display consistently early in the season. This mindset allowed us to concentrate on how we were going to fill it instead of dwelling on reasons why it wasn't full."
Oct. 14 would see the Dragons end their four-game winless streak with an overtime winner against James Madison. The goal came courtesy of a superb strike by freshman forward Megan Hammaker.
The win would propel the Dragons into their next match against high-flying Virginia Commonwealth hoping to send off their five seniors with a win in their last home game of the season. It was not to be, though, as VCU, who put together a late season nine-game unbeaten run to make the postseason, did enough to eke out a draw. It was a frustrating afternoon for the home side, but it kept the Dragons within striking distance of the playoff race that they so coveted.
The Dragons would have to win their next three games away from home in order to accomplish their season's goal: an uphill task, given Drexel's inability to win away from home all season, yet not one that was beyond a side that had risen to the challenge all season.
"Before committing to Drexel my freshman year, I knew it was a rebuilding program," Lindsay said. "I knew there were going to be challenges each season, and that's what I loved about it. We come in each season working harder than the last and overcoming different obstacles, and I take pride knowing that we have gotten better, grown and matured, and had more successes each year."
This maturity and character was on show again when the Dragons traveled to Towson for the first game of their must-win three-game series. The Dragons narrowly lost the match courtesy of a late goal for Towson scored by junior forward Cheyenne Skidmore.
With the game against George Mason two days later thus taking on added importance in the playoff race, Drexel did not disappoint. Thanks to goals by Lindsay and sophomore midfielder Jess Sarkisian, the Dragons were able to come away with a critical 2-1 win. Drexel's first road win of the season was enough to keep them within touching distance of sixth place and simplifying the final-day mathematics.
A win against rival Delaware would see the unfancied Drexel side beat the preseason odds makers and clinch a playoff place for the first time in the program's history.
The Dragons would have to do things the hard way when 10 minutes into the second half, they fell behind on a goal scored by junior forward Ali Miller. True to form though, the Dragons responded.
Drexel tied up the score 10 minutes later when a corner by freshman midfielder Alyssa Findlay found the head of fellow freshman Melissa Chapman, who obliged with an erudite finish past Blue Hens' goaltender Breanna Stremler.
The score was 1-1, and the game would go into overtime.
Drexel had the better of the second half again when Stremler was kept busy with strikes from sophomore defender Allie Mungioli, nearly sealing the win for the visiting side.
The final whistle would eventually blow, and despite a heroic effort on the day, Drexel's quest for a playoff place would end a point short.
As ever, though, the perception that Drexel failed this season would be wide of the mark.
"Next year we will strive to make sure we get that playoff spot," Lindsay said. "The team knows we are better than being 'picked last in our conference,' and we will make sure we prove them wrong each year."
The numbers bear Lindsay's thoughts out. Fifteen points in the conference represent the program's best-ever season since joining in 2002. Coupled with a 5-0-3 unbeaten home record and a defensive record that was third best in the conference behind only VCU and William & Mary, along three players getting CAA recognition, the season had plenty of positives for Drexel.
"In women's soccer, the CAA has had seven different conference champions in the last eight years," Goon said. "Adding in the fact that seven teams were in contention for four playoff spots in the final week of play demonstrates the parody within the conference. We fully expect the same to be true next year. Having the majority of our defensive core returning next year will definitely be a plus, but we still want to improve on this year's efforts. The bar has been set, but we'll want to continue to raise it."
With the conference playoffs set to kick off at the Martin Family Stadium this afternoon, it is perhaps fitting that while all eyes will be on Williamsburg, Va., the final word on Drexel's prospects for next season will come from Drexel's own perspective rather than a poll.
"Things can only keep getting better from here," Lindsay said. "We had such a talented team this year, and although we lose five seniors, I have no doubt in my mind that the girls will be just as competitive, if not more, in our conference again next year.
"The team sets goals to attain, and this year we achieved so many of those goals. We see how well we did this year and see that we can compete and be at the top of the conference."