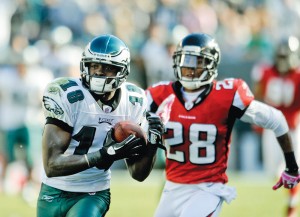 It has been a little while since we have written about the Eagles — and for good reason: nothing is happening. However, hearing Andy Reid speak this week inspired me to finally address the team, the draft and personnel moves we can hopefully look forward to once the league emerges from its lockout.
First, I want to address the quarterback situation. Whether you like it or not, Michael Vick will be under center the next time the birds take the field. The starter turned backup in 2010, Kevin Kolb is on the trading block and is now the most valuable quarterback to be available after the draft. Going into the offseason, Eagles fans had their fingers crossed that a miracle would occur in the form of a labor deal. A new deal would have instated a free agency period that would allow them to move Kolb. The general consensus was that Kolb would have garnered a possible top 15 pick in the draft, but now any deal will most likely involve 2012 draft picks, in which the draft positions are a season away from being set. Also, the longer the lockout lasts, the more difficult it will be for a new team to implement an offensive system around Kolb in 2011. The main suitors have appeared to be the Seattle Seahawks and the San Francisco 49ers. Because the teams are National Football Conference West opponents, a bidding war could be in the works to help drive up the price for Kolb's services.
The Eagles' first-round pick, offensive guard Danny Watkins, will be expected to step in and start on the offensive line immediately, barring an extended lockout. Many people believe Watkins' arrival will allow the Eagles to push Todd Herremans out to right tackle to replace Winston Justice. I do not see that happening, especially if the team cannot get a full training camp under its belt. Left tackle is set with the talents of Jason Peters, and Mike McGlynn or a healthy Jamal Jackson will occupy center. The left guard spot is still a question, with potential candidates being either Nick Cole or Max Jean-Gillies.
The wideout position looks to be the same with DeSean Jackson and Jeremy Maclin in the starting spots. At running back, LeSean McCoy will get a little relief from fifth round pick Dion Lewis out of the University of Pittsburgh.
On the defensive side there still some holes to fill. Dimitri Patterson currently occupies right cornerback — that's just not going to work. The Eagles spent a third round pick on cornerback Curtis Marsh from Utah State University, but most people think he is a player that still needs to develop before playing in the National Football League. There is always the now untouchable free agent crop that could help fill the corner spot. The biggest name on the market is All-Pro Nnamdi Asomugha from the Oakland Raiders. He will command top dollars and there have already been reports that the Dallas Cowboys have shown interest. Johnathan Joseph of the Cincinnati Bengals is also looking for a new home and may be a nice fit if the Eagles lose out on Asomugha. At safety, second round pick Jaiquawn Jarrett out of Temple University is a hard hitter that the Eagles might want to step in for Quintin Mikell at some point in 2011.
Linebackers need help, but what else is new? Stewart Bradley is an injury concern at this point. Ernie Sims was a 2011 disappointment considering he never lived up to his "big hit" potential. Moise Fokou is still young, but he has not shown anything but average performance thus far. Unfortunately, most of the top-flight free agents like LaMarr Woodley, Tamba Hali, Chad Greenway, Paul Posluszny and David Harris will be signing back with their respective teams so it leaves limited options for the Eagles to upgrade. Also, no one expects much from a sixth round draft pick in Brian Rolle or a seventh round pick in Greg Lloyd.
The only definite positions on the defensive line are at right defensive end with Trent Cole and left defensive tackle with Mike Patterson. Antonio Dixon took the right tackle position away from Brodrick Bunkley last season, so we will assume that will hold true in 2011. It is unlikely that Brandon Graham will be back from his ACL tear so Juqua Parker will once again be the guy. Mathias Kiwanuka, Cullen Jenkins, Ray Edwards and former Eagle Jason Babin are names out there so an upgrade is not out of reach.