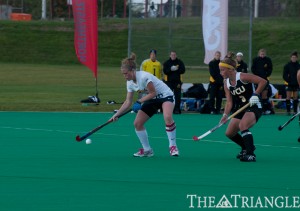 Recent Drexel graduate Kim Tunell takes the ball down the field for the Dragons. Tunell is set to play for Spirit Hockey Club in the Netherlands beginning this month.
After a stellar field hockey career at Drexel, former star Kim Tunell is venturing across the pond. Tunell, who had a major hand in taking Drexel field hockey to the NCAA Tournament for the first time in 2010, will play for the Spirit Hockey Club in the Netherlands from August 2012 to June 2013.
Tunell's career with the Dragons was an illustrious one, to say the least. She finished her career with 25 goals and 24 assists, giving her 74 career points. In four years, Tunell and her fellow seniors advanced to two consecutive Colonial Athletic Association title games, earned the school's first-ever NCAA berth during their junior year and won a remarkable 50 games during the last three seasons. She was named 2010 First Team All-CAA and received the 2010 Helen Callas Reiner Team MVP award and a 2010 CAA Preseason All-CAA selection all in the same year.
Tunell's accomplishments are not limited to Drexel, however. She was part of the New Jersey High Performance Team that won the 2010 Senior Women's National Championship. In addition, she played an important role in the Women's Senior National Indoor Team's first-ever international competition a year later and was on the 2012 Pennsylvania Senior Team, which barely fell short of winning the women's national championship after losing to New Jersey in the final match. Moreover, she is also a member of the 2012-13 Women's National Indoor squad.
Tunell graduated this past June with a bachelor's degree in business and engineering. After she returns from the Netherlands, she will join her co-op office at KPMG.